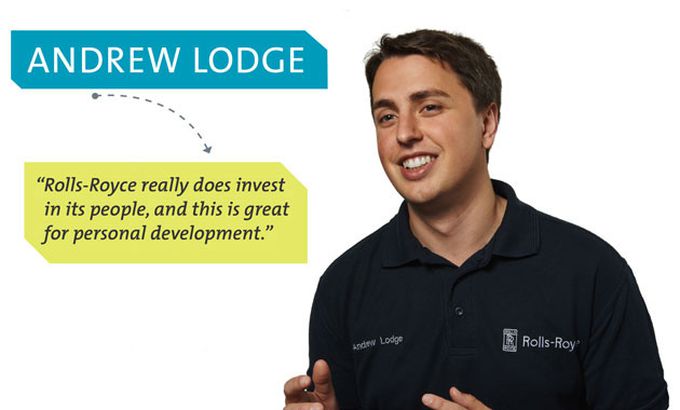 Andrew studied Engineering at the University of Liverpool and then joined the Rolls-Royce Manufacturing Graduate Programme.
PLACEMENTS SO FAR
I've been involved in a wide variety of projects across the whole manufacturing lifecycle, from early part development through to improvement projects on well-established processes. I've not stayed still either – I've worked at several sites across the UK, as well as being fortunate enough to spend three months in Singapore supporting the new Wide Chord Fan Blade Manufacturing facility.
Each of these attachments has allowed me to develop in different ways – I've looked after the introduction of new parts, helped develop measurement capability, streamlined a cumbersome process, designed and patented a novel way to shield welds, and extended the capability of an existing process. I've worked in some great teams, who have provided me with all the support I need to achieve my objectives.
MOST EXCITING PROJECT
The last project I completed on the grad scheme involved running trials to develop electron beam weld parameters for welding a ring of vanes. The geometry was trickier than any product we currently manufacture. I worked with a supplier in Germany, and provided support to design to ensure we created a part that could be welded.
The project timescales were also very tight which led to an exciting project. It's a great feeling knowing that you have influenced a design, based on engineering judgement, and supported by evidence.
BEST THING ABOUT ROLLS-ROYCE
Without a shadow of a doubt, the best thing about Rolls-Royce is the people. The people here are vastly knowledgeable, and they are more than willing to share their knowledge with you if you have an interest. Regardless of how senior they are, people always tend to find the time to help you.
TRAINING AND SUPPORT
Rolls-Royce really does invest in its people, and this is great for personal development. Graduate engineers are expected to be professionally accredited, and Rolls-Royce encourages this with funding and support for accelerated Chartership programmes. I've also been on countless courses that have really helped in my attachments. It's not just academic development that I've received – I was fortunate enough to do an attachment in Singapore, which was a great way to learn how to work across international boundaries and cultures – important in a multinational company like Rolls-Royce. Most of the training is on the job, as this truly is the best way to learn. You're given all the support you need to do your job, but the emphasis here really is on self-learning.