I committed to following a career in the Royal Navy soon after my GCSEs, and eventually after A levels and completing a degree in Electrical and Electronic Engineering at Newcastle University, I joined Britannia Royal Naval College (BRNC) in 2012.
During my time at BRNC, I volunteered for the Submarine (SM) Service and on gaining a commission joined HMS COLLINGWOOD for Phase 2 training. This included Weapon Engineer training at HMS COLLINGWOOD, initial SM training at HMS RALEIGH and an initial Nuclear course at HMS SULTAN. I was then assigned to HMS VIGILANT as Assistant Weapon Engineer Officer. HMS VIGILANT is one of four 15,000 ton Vanguard Class submarines which provide the nations Continuous At Sea Deterrent (CASD). During this assignment I qualified as a submariner and earned my dolphins in 2014.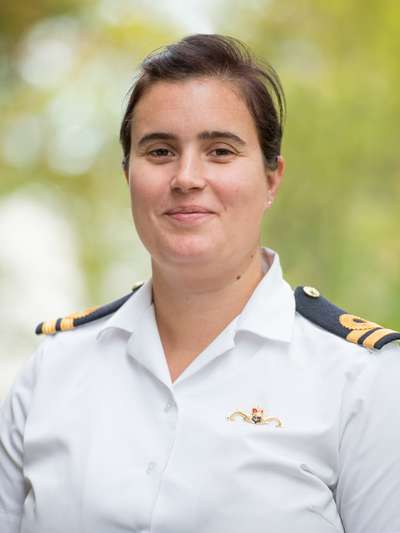 I qualified as a Deputy Weapon Engineer Officer during another training course at HMS RALEIGH and then joined HMS VICTORIOUS to lead the Tactical Weapon Engineering department. This assignment saw me lead a team of around 30 people from all different backgrounds. My core role involved management of busy maintenance periods and defects both alongside and at sea on patrol providing CASD. The team also conducted all weapon evolutions including the movements of live ammunition from pyrotechnics up to torpedoes; when it came for the time to fire these weapons I led the team responsible for firing and guiding these to engage targets. Along with this my other duties included Ship Control Officer Of The Watch (which involved managing the team which controlled the SM and its systems at sea) and Officer Of The Day (in which I was the Captain's representative and responsible for safe running of the SM and routine whilst alongside).
Although busy, my time onboard HMS VICTORIOUS was the most rewarding and interesting time I have had since joining the RN and I have gained more responsibility and experience than I could ever have imagined. Embracing the phrase 'work hard, play hard' towards the end of my time onboard, I had the opportunity to arrange an Adventurous Training Expedition to the Red Sea, Scuba Diving where I was able to take 22 people, mainly from the crew of HMS VICTORIOUS.
I have now left HMS VICTORIOUS and am based in the Maritime Operating Centre at Northwood Headquarters. I am part of the Fleet Operations and Maintenance team which works with all operational submarines to ensure that emergent defects are managed to provide maximum capability. This involves liaising with departments across the RN and prioritising units which require engineering support.
Since joining the RN 5 years ago I have had an extremely varied and exciting career which has opened up many opportunities and involved working with interesting people and personalities under unusual conditions. I would recommend this career to anyone looking to do something a bit different to a 'standard' engineering career.