As a team we pride ourselves on challenging and developing our graduates with a rotation plan which will provide exposure to a breadth of engineering across a range of exciting and challenging projects including Formula 1, Project ONE and Formula E. Rotating within HPP's Engineering Team you will have the potential to experience a engineering from many perspectives: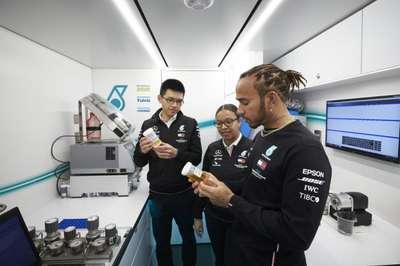 Thermofluids Engineering: Define and deliver performance concepts that ensure the PU has the highest crank power and maximum thermal efficiency in Qualifying & Race
Calibration and Controls: Define and deliver calibration and control system innovations that optimise energy flows to achieve the fastest Qualifying & Race laps and deliver outstanding driveability
Laptime Simulation and Analysis: Model the PU to high resolution, whilst simulating it in the race environment to assist in the definition, optimisation and delivery of performance across a race weekend
Mechanical Engineering: every ICE component is owned through its full lifecycle by a Mechanical Engineer. You can be responsible for the design of components and/or systems from concept, through prove-out and into the Silver Arrows race car
Mechatronics and Chassis Engineering: designing new concepts, managing the integration of the Powerunit with the chassis, developing the ERS pack (electronic and mechanical components)
Product Validation: determine the health and performance of every Power Unit. Work to prove-out the maximum operating envelope of the Power Unit to set out limits for racing. Data analysis to characterise the Power Unit and track it's duty real-time
Test Engineering: strive to recreate the racetrack and race-car environment to make each experiment as representative as possible. Engineer test rigs to push the components and systems of the Power Unit to their absolute limit and validate the underpinning simulations
What do we need from you?
A curious, tenacious and driven individual with a hunger to work in a fast paced environment
A 2.1 degree, or above, in a relevant Mechanical/Automotive/Mechatronics/Motorsport/Aeronautical or related degree e.g. Science or Maths
A strong academic background in relevant A-Level, or equivalent disciplines, for example Maths or Sciences
An excellent understanding of engineering first principles
Practical, "hands-on" experience to complement your academic studies
Excellent communication skills
Self-motivation, adaptability and creativity
The courage to challenge and desire to be challenged, to expand your technical knowledge and skills
What can we offer you?
We offer the opportunity to work in a state of the art Technology Centre, being involved in exciting technological challenges alongside some of the world's best engineers. You will get the opportunity to engineer solutions in world class facilities and, having been thoroughly proven at our Technology Centre. You will be able to see your ideas raced in F1 or Formula E, or powering the revolutionary Project ONE hypercar. You will also have the opportunity to work towards chartered status with the IMechE via our MPDS registered scheme and will be assigned a personal mentor who will support you throughout.
Our benefits package includes:
A salary of £33,000pa
Performance bonus
Collective bonus
Company lease car scheme
36 days annual leave
Access to private healthcare and generous pension scheme
Onsite Gym
A variety of other benefits and staff discounts
The application process:
Submit your on-line application, CV and covering letter
Complete on-line psychometric testing
Your application will be screened by HR and the hiring manager
If successful you will be invited to attend an Assessment centre between November 2021– March 2022
If successful your scheme will start on Monday 5th September 2022
Please note, due to the volume of applications we receive, there may be periods of time during the process where you don't hear anything from us. Don't worry! We will advise you of the outcome of your application regardless of the result so please bare with us. Please be advised that we are unable to provide detailed feedback to applicants, apologies for any inconvenience.
We've signed the Gradcracker feedback pledge.
(This means that we will supply feedback if requested after an interview.)
1e127ede32d8f816eacfb0aed73cee11