At Mercedes AMG High Performance Powertrains our 12 month ERS Build Placement programme will tap into your passion and determination to win, giving you a real opportunity to contribute to our success story. You will be an integral part of our Engineering Team, and using your practical engineering skills you will be expected to overcome challenges relating to the assembly of our Championship Winning Hybrid Power Unit. The ERS Build team is made up of dedicated individuals who are passionate about bringing engineering designs to life, and are responsible for putting together the energy recovery system to ensure on track performance, working on the rapid delivery of our ERS Hybrid Systems to our works team; Mercedes AMG PETRONAS, as well as our customer teams; Williams Racing, Aston Martin and McLaren. In addition to this, we are also leading the transfer of state-of-the-art Formula 1 technology into the revolutionary Mercedes AMG Road Car "Project One".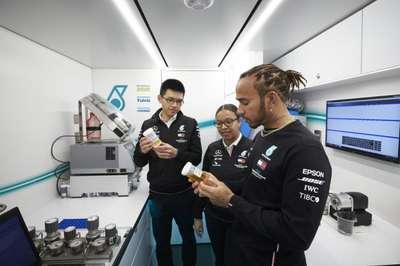 As a team we pride ourselves on challenging and developing our Placement Students with a rotation plan which will provide exposure to a breadth of engineering.
To do this you will have the following;
Access to our latest designs, giving you exposure to F1 Engineering drawings and CAD models of real products
Direct involvement in the complex assembly of high voltage race modules as well as your own projects working on the continuous development of the build processes
Involvement in the complete product build processes, engaging with our team to suggest solutions for improvement
The scope to work on both mechanical and electronic or hybrid products, developing your knowledge of the products and interactions
See how ERS Build interacts cross functionally with other departments to enable us to be successful at the track
What do we need from you?
A curious, tenacious and driven individual with a hunger to work in a fast paced environment
You'll be on track to achieve a 2:1, or above, in a relevant Electrical, Electronics or Mechatronics degree
Evidence of practical engineering skills from either University or outside hobbies/interests
Adaptability, as no two days are the same, when there are pressures to be race ready
High resilience as an excellent work ethic is key to our success
Strong communication skills
A willingness to go the extra mile to help the team succeed
What can we offer you?
We offer our ERS Build Placement Students the opportunity to work in a state of the art Research and Development centre, being involved in exciting technological challenges alongside some of the industry's best engineers. You will be set targets aimed at perfecting your Electrical / Mechatronics practical skills, as well as being given the opportunity to take these skills and apply them to concept design. By the end of your 12 month placement you will have an excellent understanding of the full product life cycle from concept design through to testing.
Our benefits package includes:
A salary of £20,000pa
Collective bonus
Company lease car scheme
36 days' annual leave
Access to a generous pension scheme
A variety of other benefits and staff discounts
We've signed the Gradcracker feedback pledge.
(This means that we will supply feedback if requested after an interview.)
1e127ede32d8f816eacfb0aed73cee11