Sustainable development is integral to our approach to business and the solutions we provide to our clients, especially at this key time of energy transition.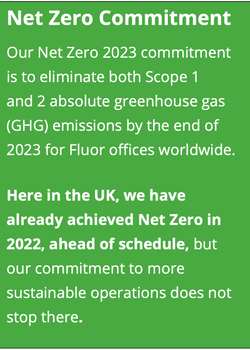 Fluor's sustainability mission envisions meeting the needs of Fluor's clients while conducting business in a socially, economically, and environmentally responsible manner to the benefit of current and future generations, thereby creating value for all stakeholders.
Every day, Fluor helps clients safeguard the environment, conserve energy, protect lives, and strengthen the economies and social structures of communities in which Fluor employees work and live.
At Fluor, leadership in sustainability is more than just a responsibility; it is a privilege.
Building on our strong background in process plants, we understand the importance of delivering sustainable solutions and are actively growing our portfolio of energy transition and sustainability driven projects. As a company, we are committed to sustainability and making a positive contribution.
Learn More