At Fluor, we are proud to design and build projects and careers. This requires teams that are as unique as the projects we execute. We are committed to fostering a work environment that embraces Diversity, Equity, and Inclusion (DE&I) for all, so our employees and stakeholders benefit from the creative solutions derived as a result of embracing differences.
Operating in 29 countries worldwide we pride ourselves on our diverse workforce. All employees are expected to actively support our people development & DE&I policies
We promote DE&I so all employees and stakeholders are able to fulfil their potential regardless of their ethnicity, background, abilities, age, orientation, religion, geographic region or gender.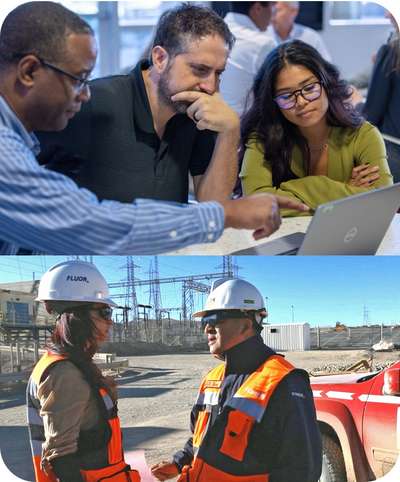 Fluor's DE&I framework is based on the following impact pillars:
Champion an inclusive culture.
Recruit, develop and retain diverse talent.
Enhance employee experience.
Improve social progress and impact.
At Fluor we:
Respect diversity, equity and inclusion at all levels of our organisation.
Embrace 'listening and learning' as a positive, progressive philosophy.
Build an inclusive organisation representative of the communities in which we operate, across all our businesses.
Enrich our employees and communities by providing training, development, and education opportunities.
Increase our support and market access for diverse and local suppliers in all the regions where our work is performed.
We demonstrate our commitment to DE&I by:
Engaging in continuous, transparent dialogue at all levels.
Monitoring and benchmarking our DE&I program against identified goals.
Reporting on our DE&I progress.
Employee Resource Groups available:
Growing Representation & Opportunity for Women (GROW)SM. An initiative to further promote diversity and inclusion awareness and engagement. Women and men working together to cultivate opportunities to attract, retain and develop women into leadership roles to improve Fluor's business capabilities through gender diversity.
Graduates Advancing to Professionalism (GAP)SM. A programme comprised of employees within five years of graduating from university to ensure a seamless transition between the academic and working worlds. We believe in building long-term, successful careers.
Black Employee Alliance (BEA). A forum to communicate and exchange information and ideas related to the professional and personal cultivation of their members. They aim to add value to Fluor by supporting its stated corporate strategic pillars which support inclusivity, while enhancing BEA. contributions through collaboration.
Emerging Leaders Group (ELG). A programme to develop the leadership capabilities of its members and engage them in decision-making process of the Company through collaboration and networking with Peers and Senior Management.