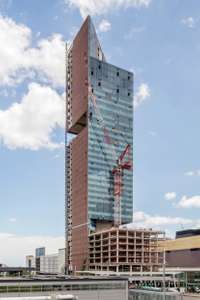 Our global strength
Who is Bouygues [Bweeg]?
Founded by Francis Bouygues in 1952, Bouygues is a diversified industrial group with a strong corporate culture. Its businesses focus on three sectors:
Construction, with Bouygues Construction (building, civil works, energy and services), Bouygues Immobilier (property) and Colas (roads),
Telecoms with Bouygues Telecom
And media with TF1.
Bouygues aim to bring innovative solutions to improve the daily lives of as many people as possible, through infrastructure in its construction businesses as well as through digital technologies.
Bouygues draws on the skills and expertise of its people to add value to the products and services it offers in each of its activities. It aims to:
Strengthen its position of a world leader in building and civil works, in energy, and in transport infrastructure;
Maintain its leadership in the French media industry;
And underpin the spread of digital technologies in the telecoms sector for the benefit of customers and end-users alike.
Our global construction activities
Our construction businesses – Bouygues Construction, Bouygues Immobilier and Colas – make Bouygues a world leader in the sector. Its strengths and assets for the future include its human capital, innovative products and services with high value added, a strong international presence and a leading position in sustainable construction.
Bouygues meets the great challenges of urbanisation, mobility and the environment in its construction businesses (building and civil works, property development, transport infrastructure, energy and services, and concessions). Its strategy focuses on profitable growth driven by innovation and sustainable construction for the benefit of customers.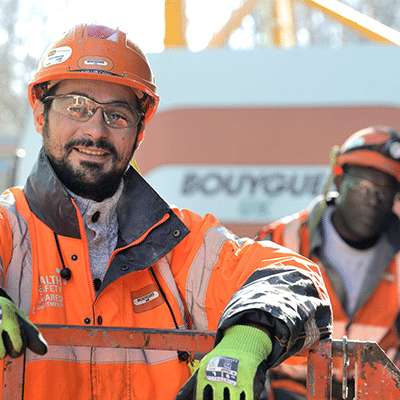 Bouygues Construction
A global player in construction and services with operations in over 60 countries, Bouygues Construction designs, builds and operates structures and facilities which improve people's daily living and working environments.
Bouygues Construction's two key commitments: Health & safety and ethics
The health and safety of its employees is an absolute priority for Bouygues Construction, reflected in a single global standard: the "zero accident" objective. This aim is expressed in several initiatives, such as workforce training, continuous improvement of construction methods, anti-addiction campaigns and more stringent on-site controls.
Ethical behaviour by managers and sales teams is another key commitment, with the aim of guaranteeing all customers a high level of ethical responsibility.
Innovation at the heart of the growth strategy at Bouygues Construction
The company's vision is one of innovation shared with partners, customers and employees. In all its businesses, the company will put the accent on innovative proposals and strengthen its potential by developing open innovation partnerships and supporting several start-ups. The same momentum of innovation also applies to working methods, in which digital technology and lean management are playing an ever greater part.
A UK player
Operating in the United Kingdom for over 20 years, the Bouygues Group has progressively grown our businesses in the sectors of:
Building (Bouygues UK)
Civil works (Bouygues Travaux Publics and VSL)
Energy and services (Bouygues Energies & Services)
And property development (Linkcity).
These, coupled with the activities of sister companies, Colas Ltd and Colas Rail, see Bouygues' operations in the UK total £1.5bn sales, with 6,000 employees.
Bouygues Construction | Operating in the UK alongside Bouygues UK
Bouygues Energies & Services

A global leader in energy, digital and industrial transformation.

The expertise of its 14,000 employees worldwide provides engineering and service capabilities committed to designing, building, operating and maintaining infrastructure, buildings and industrial facilities.

Bouygues TP

Bouygues Travaux Publics has been working in the four corners of the earth for 50 years, whether using tunnel boring machines, building bridges, constructing motorways or railways, or underground works and nuclear facilities.

VSL

VSL's well proven systems and sound in-house engineering have founded its reputation for innovative conceptual designs and construction engineering solutions.

Services include adapting post-tensioning principles to civil structures, stay cables, precasting and segmental bridge erection, formwork, repairs, heavy lifting, geotechnics and deep foundations.