About the author:
Georgina Ainscow specialises in drafting and prosecuting patent applications in the electronics and computing fields.
Georgina joined Reddie & Grose in 2015, having entered the profession in 2002, and worked as a partner at another London based firm of patent attorneys for five years.
Georgina works on patent cases in the fields of physics, engineering, electronics, software and business methods. She has extensive experience drafting and prosecuting patent applications, and representing clients before the UK and European Patent Offices. As well as drafting and prosecution work, she advises on invention harvesting, international patent portfolio management and IP strategy.
Georgina's areas of specialism include the video coding, telecommunications and optical device fields, where she regularly represents clients before the examining division of the European Patent Office.
She has drafted and prosecuted applications in the power electronics field, with a particular focus on high power converters for integrating renewable energy sources such as wind power, hydro, and solar power.
Georgina has a particular interest in hearing implant design, having represented a UK hearing aid design company, who she assisted to obtain international patent protection for inventions in the field of implantable devices for treating sensorineural hearing loss. She has also drafted and prosecuted applications relating to a range of medical imaging devices and techniques.
She has represented a number of UK based companies, providing advice in relation to all aspects of patent protection, patent portfolio management, and IP strategy. These companies include a UK-based company specialising in the design and manufacture of AC-DC and DC-DC power supplies, and a company specialising in innovative leak detection sealing techniques for the oil and gas industry.
Outside work, Georgina enjoys running and undertaking overly ambitious craft projects with her two small children.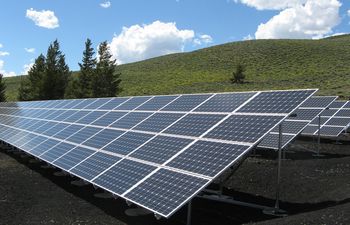 A new study led by the Australian National University (ANU) could lead to cheaper and more efficient solar technology. According to the study, the current photovoltaic (PV) cell market is dominated by silicon based technology, which is nearing its theoretical efficiency limit.
ANU engineers, in collaboration with researchers from the California Institute of Technology, have developed a way to combine silicon with another material, known as perovskite, to more efficiently convert sunlight into electricity. The materials are joined together to form a 'tandem solar cell' in such a way that the need for a conventional interlayer to allow electrical charge to be transferred easily between the two cells is avoided. This minimises energy waste and simplifies the structure, potentially making it cheaper and easier to produce.
The innovation is one of many contributions to continuing global success of the solar power industry. The JRC Science for Policy Report published in December 2018 notes that solar power attracted the largest share of new investments in renewable energy for the 8th year in a row, with new solar power plants adding almost 35% to the world-wide new power generating capacity in 2017. In the US, the CMU Power Sector Carbon Index, which tracks the environmental performance of US power producers, identified a double digit growth in solar power during 2018, significantly outperforming other energy sources.
This dominance of the solar power industry is borne out by patent filing statistics, with figures given by the International Renewable Energy Agency (IRENA) indicating that PV technology, and solar technology in general, continues to dominate over other renewable energy technologies in terms of numbers of patents filed globally.
And success for the solar power industry, as well as other renewables, is badly needed. The International Energy Agency, in its Energy Technology Perspectives 2017, suggests that full decarbonisation of the power sector by 2050 is needed to achieve the Paris Agreement goal of limiting global average temperature increase to 1.5 degrees. Moreover, solar energy systems can be deployed in a modular way almost everywhere in the planet, while solar resources are abundant and cannot be monopolised by one country. With oil prices heavily dependent on geopolitical factors, solar energy, alongside other renewables, offers stabilisation, and potentially a reduction in future energy prices.
The evidence suggests that technology aimed at reducing costs and improving efficiency of solar devices, as well as supporting the integration of these devices and transporting the electricity they produce, will be a key area for research and innovation in coming years, and one where we are likely to see a consequent increase in patent filings to exploit the commercial benefits of solar technology.
This article is for general information only. Its content is not a statement of the law on any subject and does not constitute advice. Please contact Reddie & Grose LLP for advice before taking any action in reliance on it.