It can be difficult when it comes to choosing the right work placement for you; finding work experience that complements your studies or allows you to explore the wider or practical elements of STEM to complement the theory you are studying.
At Leonardo, we have long believed that offering industrial internships, summer placements and work experience is invaluable to employers and students, enabling them to understand the full diversity of a career in STEM.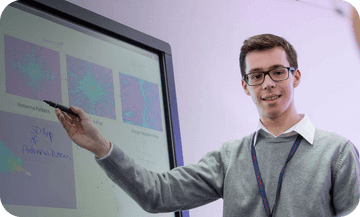 Undertaking a UK internship or placement with Leonardo can open up your horizons to the diverse and dynamic ways in which your studies can be used within the global high-tech company.
Leonardo offers the following placement opportunities:
1. Industrial Placements
2. Summer Placements
Industrial Placements
We offer industrial placement positions in many disciplines. If you are looking for a role that works at the cutting-edge of technology, enhances your skills, business acumen and future prospects, all while earning a competitive salary, then a Leonardo placement may be for you!
Our world-class centres of excellence across the UK produce complex systems to detect, analyse and protect against a wide range of threats. We provide radio frequency and electro-optic sensing, communications, platform protection and mission management systems and solutions to fast jet aircraft, helicopters and unmanned aircraft systems (UAS).
By becoming part of our business, you can work as a team to help us to solve problems, make a difference and keep people safe.
Entry Requirements
For our engineering roles, we are looking for applicants from Engineering, Physics, Mathematics and Computer Science backgrounds.
Summer Placements
We offer a range of exciting summer placement opportunities across various technical functions. Leonardo relies on having the very best employees to maintain its competitive edge and has some of the industry's most sophisticated technology at its fingertips.
Undertaking a summer placement with Leonardo can provide invaluable support to your current studies: you will not only be working for a company at the cutting-edge of technology, you will also be enhancing your skills and business acumen.
As well as the opportunity to gain hands on experience we offer our placements a competitive salary and relevant training and development opportunities.
Description
Summer placement students will be involved in a variety of tasks in one of the following engineering disciplines – Software, Systems, Hardware, Firmware, Microwave, Antenna or Mechanical Engineering.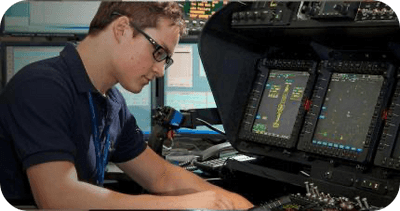 Providing support to real projects, placement students will be required to apply knowledge gained while studying in a practical way. Placement students will undertake activities including designing, testing, qualifying and supporting technology across our range of products. The challenging tasks will involve communicating with other team members to gain information before completing objectives and examining outcomes.
The placements will be based at Capability Green, Luton - home to the Electronic Warfare (EW) line of business within Leonardo.
Entry Requirements
Good communication skills are essential, both written and verbal
Ability to solve technical problems
Be studying for a degree in Engineering, Physics, Maths or Computer Science