Leonardo's award-winning graduate programme develops promising young graduates into engineers and business professionals of the future.
Each year, Leonardo seeks to recruit enthusiastic people for its graduate programme who are willing to drive change and innovate. Your talent and energy are essential to the future of our high-tech business to continue evolving in the competitive market and to ensure we meet our customers' needs.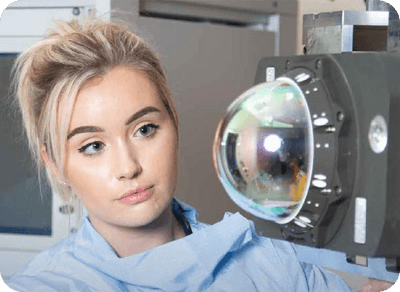 From our focus on radar technology at our Edinburgh site, to our helicopters centre of excellence in Yeovil, we offer exciting opportunities to talented graduates who want to work at the forefront of our technology, gaining practical experience and developing in a supportive environment.
With the majority of our engineers having gained chartered status, and with our graduate scheme particularly designed for professional recognition, you can look forward to working with highly skilled professionals that are passionate about their work and mentoring those joining our team.
Within our Helicopters business, graduates will look at the mechanical, structural and electrical aspects of products such as transmissions, rotors, aerodynamics etc.
Our graduate training programmes have been designed to support your first steps after leaving university and to help you develop your career. Through a comprehensive induction programme, you will have the chance to gain a complete picture of the organisation and be involved in real challenges from day one. You will have the opportunity to learn from colleagues who are experts in their field, while always being encouraged to use your initiative.
Leonardo is offering graduate scheme positions in many disciplines. If you are looking for a role that works at the cutting edge of technology, enhances your skills, business acumen and future prospects, all while earning a competitive salary, then a Leonardo graduate position may be for you!
Entry Requirements
For our engineering roles, we are looking for enthusiastic applicants from Engineering, Physics, Mathematics and Computer Science backgrounds, with a 2:1 or higher (actual or predicted as appropriate) degree.