Hi Saida, tell us a little about yourself and what brought you to CERN?
Hi my name is Saida and I am currently a Fellow at CERN where I work for two teams: the Experimental Area Management (EAM) and Electromagnetic Calorimeter (ECAL).
I grew up in the UK where I was introduced to Engineering at the age of 13 and continued to pursue it as a career. At university I studied Electronic and Telecommunication Engineering. Upon graduation I went on to work mainly in the Railway sector in the UK – first as an Electrification and Plant Engineer, and then I decided to move away from technical engineering after about 5 years and moved into Project Engineering/Engineering Management working for Crossrail and Transport for London (TfL).
I saw a role advertised on the IET website for CERN which was very similar to the Project Engineering role I was doing at the time with TfL so I put in an application - just to see what would happen, even though I didn't believe that I would get to the second round.
So it was incredibly exciting to find that I had been shortlisted and got to the stage of the board interviews. The best part of the day was a site visit to Point 5, home of the CMS detector. I had of course seen the pictures online of the CMS detector but actually seeing it in real life was surreal. It made me realise the engineering challenge the project must have faced and the complexities of it all. It was that moment that I realised I really wanted to work here.
I heard back a week later and the news was both disappointing and exciting; I hadn't been successful in getting the role I had applied for, but they had liked me a lot and wanted to offer me a position as a Fellow. It was 5 months later that I had an official offer to join as a Fellow and then it really hit home that I would need to uproot my life and move to Geneva.
It took me a couple of months to make the decision of whether I was ready to make such a major move. In the end I decided to come to CERN because it was the opportunity of a lifetime, not only to be working for one of the top organisations in the world, but to experience life and work outside of the UK. Also it was the opportunity to be part of an international organisation working with people from all over the world on one of the most exciting projects of my career.
Can you tell us some more about your work at CERN?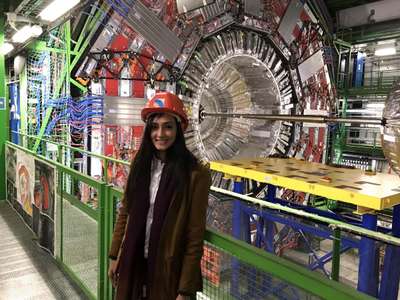 For the EAM team I am doing some surface logistic planning and also a long term planning project for the Long Shutdown (LS2), Phase 2 and LS3. I am also putting together the requirements for a new C02 cooling building which will contain the new primary cooling system for the new tracker and endcap for the CMS detector. For ECAL I am helping them plan their Long Shutdown activities which is the upgrade of their supermodules. It's very different to what I was doing in the UK but it's great as I'm meeting and working with people from so many difference backgrounds, it's about communicating effectively and building relationships in order to get people to give you information.
What is working at CERN like for you?
Working at CERN is very different to the UK, the main difference I find is how passionate people are about their work – it doesn't seem like a job to them, it is almost a calling, which is a refreshing change. My team are absolutely brilliant and some of the nicest people I've worked with.
What advice would you give potential applicants?
My advice to anyone considering applying is send in the application, even if you don't think you will get through - put the application in anyway, and don't even hesitate. And if you do get a position here – learn as much as you can. Step out of your comfort zone and ask questions because people will take the time to talk to you. Also take part in everything you can outside of work as well, I take part in the CERN French classes, I've just started skiing lessons and I use my weekends to travel around France and Switzerland. Working at CERN is literally an adventure of a lifetime!