At MWH Treatment our people are at the heart of everything we do. They are critical to our success now and in the future.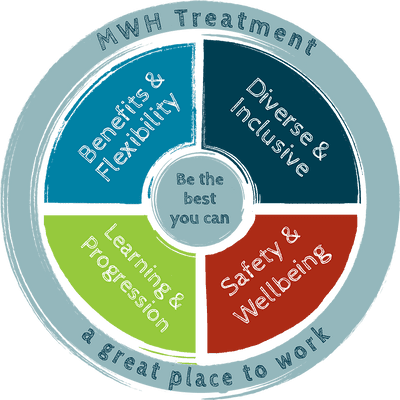 We are a high performing business, number one in the Design & Build UK Water Industry, and at the forefront of many technical advances within the digital environment, this is all due to the dedication and commitment of our people.
As a business we strive to enable our people to be the best they can be whilst delivering our shared vision for the future.
It is important to us to create an environment that is safe and to encourage a culture which is truly inclusive and balances work with the need for a healthy lifestyle.
We offer exciting learning and career opportunities for those who join us and wish to play a part in fulfilling our business goals.
From recruitment and induction through career development opportunities and promotion we support our people to realise their potential and ambitions by harnessing their talents.
Our goal is to make MWH Treatment a 'great place to work' because people matter.