Meet Matt, VP - Portfolio Manager
Our philosophy
Our philosophy of working as One BlackRock is at the core of our commitment to diversity, equity, and inclusion (DEI) across every level of our firm and within every region and country we operate – across gender, race, ethnicity, disability and veteran status, among others.
We've made building a more diverse workforce a top priority and we foster a collaborative culture based on trust, respect and integrity. We know that a diverse workforce is indispensable to our creativity and success. It's how we answer the biggest questions and solve the toughest problems.
An inclusive, equitable environment makes us thrive. It enables us to draw on expertise and unique experiences from across the firm and bring out the best in each other.
---
Talent

Our talent and culture across the globe. Attract, develop and retain a diverse talent pipeline. Foster an inclusive and connected culture.

Clients

Our role as a fiduciary on behalf of our clients. Respond to our client's needs around DEI. Research and develop impact products, relevant to DEI.

Communities

Policy and social impact in underserved communities. Invest in the long-term success and sustainability of underserved communities.
---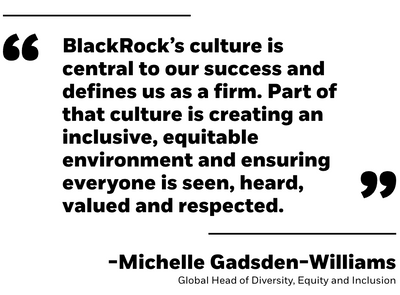 Our steadfast commitment and actions to accelerate DEI are not only meant to attract and retain talented employees from all backgrounds, but also allow them to flourish, feel safe, supported and have a true sense of belonging.
To do that, we are building a culture where all voices – not just the loudest or the most familiar – can contribute to help our clients achieve their goals. This approach creates room for each employee to bring their whole self to every conversation.
In 2021, we committed to increasing overall representation of Black and Latinx employees by 30% in the U.S., to doubling the number of Black and Latinx senior leaders in the U.S. and to increasing senior female representation to 32.5% by 2024 globally.
We are encouraged by the progress made since announcing our representation goals, but recognise much work remains.
Our approach to hiring
We seek to hire diverse teams because we believe they lead to better decision-making, especially in complex, changing environments. To do that, we regularly review job postings for biased language, champion diverse candidate slates and use a competency-based approach to interviewing to help us diversify our teams.

Our employee networks
Our employee networks provide an opportunity for employees with a diverse range of backgrounds, experiences, and perspectives to connect with one another and help shape BlackRock's culture. Employee networks are sponsored by senior leaders and are proudly designed by employees, for employees.
Our first network, the Women's Initiative & Allies Network (WIN), was established in 2006. Today, we have 15 employee, professional, and social impact networks which come together in a forum called Mosaic – to identify and explore shared interests and common challenges across all networks and the firm.
We continue to add new networks to support our employees. For example, our Ability & Allies Network (ABN), which supports our global population that self-identifies as having a disability, has expanded its number of chapters; and in 2021, we launched two new networks, the Asian, Middle Eastern & Allies Professional Network (AMP) and Gives Network.