At ASMPT we think that sometimes a little acknowledgement and recognition is all it takes to bring out a smile in the workplace.
Our POWER values define the culture and mentality that we aspire to maintain and promote at ASMPT. They act as a benchmark not only for the way we deliver products and solutions to our customers, but also for the way we work with each other and the personal behaviours that should be encouraged, recognised and rewarded.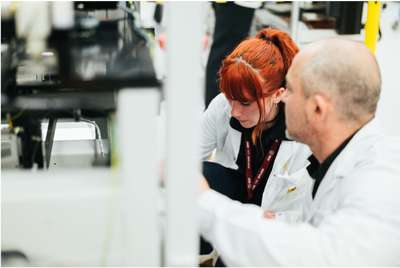 Our 'Being Brilliant' awards allow people to nominate colleagues for doing that little bit extra, and reward them with small gifts or points towards monetary rewards.
Our 'Going the Extra Mile' awards take it a step further for those who have gone above and beyond what's expected of them; offering larger rewards and even a permanent spot on our Extra Mile wall!
Our Benefits
Enabling the incredible digital world offers enormous scope to develop your career beyond traditional ideas of progression or promotion. Enabling is always evolving.
Dental and Private Healthcare
We know that private healthcare can be expensive and finding a dentist can be a challenge, so, we work with health companies to make it more affordable.
Health and Wellbeing
Since our employees are our most important asset, we take care of your well-being with various benefits including a corporate gym rate, 'pro-active' advice for healthy lifestyle choices, support towards prescriptions, physio & dental charges and cycle to work schemes.
Time off
Here at ASMPT, we recognise the importance of annual leave for our People. We encourage our People to take time to reset physically and mentally, away from the workplace. ASMPT employees are entitled to 25 days of core holiday entitlement plus bank holidays and any specially declared National holidays.
Hybrid Working
ASMPT offer Hybrid working as an approach for various roles as we recognise that it enables employees to better balance work necessities and their personal needs.
Food
Whether you are a vegan, vegetarian or a meat lover – our on-site subsidised cafeteria offers good food for anyone who likes healthy, diverse and tasty meals.
Annual Leave
Enjoy joining other members of the UK team at various events throughout the year including Summer & Christmas parties.
Sports & Social Club
Take party in activities with other members of the UK team such as weekend trips away and coffee mornings. You can also join sports teams such as football, paddle boarding, volleyball & cycling.