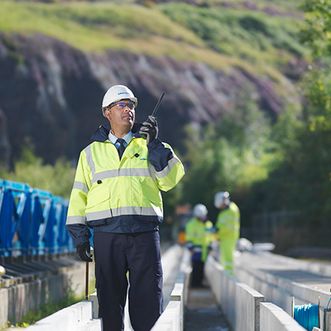 Our ambition is to continue to position sustainability at the heart of what we do and in the solutions we provide to our customers.
Our Blueprint seeks to further embed sustainability throughout Balfour Beatty's operations by providing a robust framework. It captures the actions we need to take to ensure we remain viable in the long-term and is consistent with our value proposition. It builds on the lessons we have learnt as our Blueprint strategy has evolved.
Our framework is based on three pillars, which follow the classical three-dimensional sustainability model: economic, social and environmental. In our interpretation of this model they are named Profitable Markets, Healthy Communities and Environmental Limits.
Case Story: Edith Green
Edith Green Wendell Wyatt building modernisation
Delivering one of the most energy efficient high-rises in the US.
Energy conservation measures include a 13,000 square foot solar roof, elevators that generate power as they descend, advanced daylight-sensitive lighting systems and an air system that provides 100% fresh air. The building has a 165,000 gallon cistern and now uses 60% less water than typical office buildings.
We brought on board small businesses as subcontractors to grow new business competencies and develop critical relationships with key players in the local construction market.