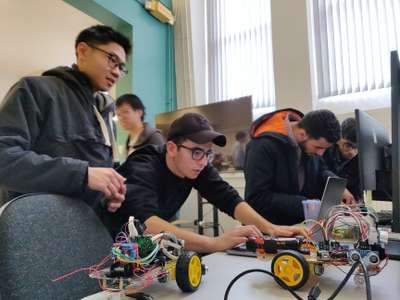 The Buggy Project
The Buggy Project is our primary beginners project. New members are put into teams of 2 or 3 people and each team gets a kit to assemble their own two wheel autonomous buggy.
The buggies are assembled over the course of semester 1 and the students are taught the basics of circuitry, programming and mechanical considerations for robotics along the way. We like to invite the members to put their own spin on their creations, and several buggies feature weird and wonderful modifications.
The semester closes with a competition where all the buggies compete to solve mazes, race each other, and other tasks. This year we had 36 participating students in the final competition and it was a huge success!
After the competition, buggy project students can move up to other projects, or continue to tinker with and upgrade their buggies if they want to explore other technologies.
A number of last semester's buggy teams are now experimenting with bluetooth control via mobile apps of their own design, and some are working on mapping and navigation technologies.