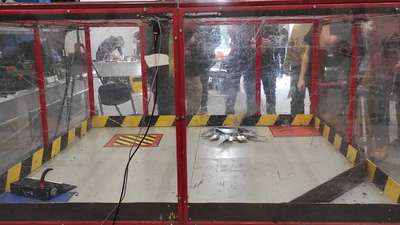 The Robot Fighting League
This project team is working to build a variety of combat robots to participate in Robot Fighting competitions around the UK (think Robot Wars, but a bit smaller).
This year we successfully took part in a Beetle Weight (<1.5 kg) competition in Bristol in February which was the first event of this kind that the university has ever taken part in.
In March we also entered two hobby weight (<5.44 kg) robots into the National University Robot Fighting League in Leeds, where one of our robots made it to the quarter finals and we won an award for the best engineered robot. We are also hoping to host our own internal fighting event later this academic year.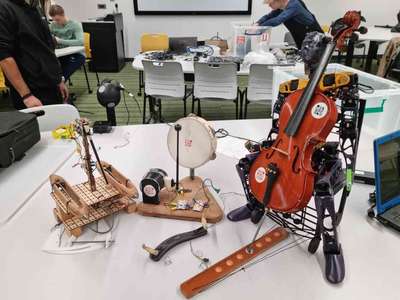 Robot Orchestra
The Robot Orchestra began in 2016 under the leadership of Professor Danielle George, with its stated goal being "to enthuse young people about engineering and music by encouraging their creativity and passion for making". Leadership passed to the Robotics Society in 2022.
At the time of writing, we possess 16 functioning robot instrumentalists, with 8 additional players in various stages of design/construction. These range from violins and pianos to tesla coils and floppy disks, which help to give the Orchestra a unique robotic sound. Wherever possible we try to avoid synthesisers and other electronic means of making sound, preferring to play the instruments the way a human would: by actually pressing keys and plucking strings.
The project is highly interdisciplinary and welcomes anyone interested in music, software, mechanical design, or electronics. Students interested in the engineering side who have little or no musical experience need not worry, as there will be musicians involved in the project to help on this front. We also welcome musicians (who need not have any prior robotics experience) to arrange/compose for the orchestra and help steer the engineers in the right direction.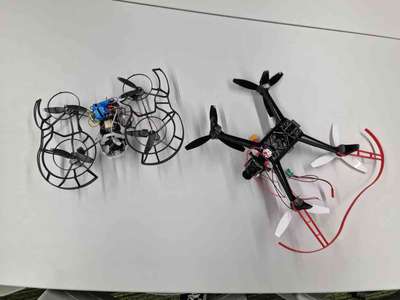 Artemis II
The Artemis II is a project undertaking the development and construction of a fully autonomous hex-copter. The project will heavily utilize flight dynamics simulations, RF antenna design, high-power hardware design and many more. This year by using the Pixhawk 4 flight controller.
With the ArduPilot software, our team will construct a GPS-guided hex-copter which will be able to do half-hour waypoint missions and areal photography. This project is ideal for people who want to push the physical limit of fundamental electronics and are interested in developing and learning the amalgamation of all engineering disciplines.