About us
DeepOcean is a technology-driven, independent solution provider in the ocean space. We offer companies within oil and gas, offshore renewables, deep sea minerals, and other non-energy niches a full range of services – from surveys, engineering, project management, and installation to maintenance and recycling.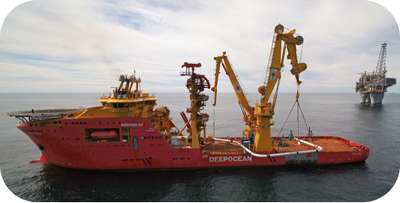 Our global team of experts is at the forefront of remote and unmanned operations and digitally-enabled services.
Supported by an extensive tool and technology pool, they drive cost-efficient, safe and sustainable operations.
DeepOcean has a GO GREEN attitude, continuously looking to make our customers' operations more sustainable, through reducing both carbon footprint and costs.
A world-leading ocean services provider, DeepOcean enables the energy transition and sustainable use of ocean resources. People are the heart of our operations. It's about technology, systems, and processes, but in the end, it is our people that deliver the services.
Our History
DeepOcean was established in 1999. With headquarters in Oslo, Norway, and main operational centers in Norway, the UK, the USA and Mexico, we support our clients worldwide.
In 2016, Triton, an international investment firm, became the largest shareholder in DeepOcean. Since its founding, Triton has completed more than 70 investments and supported more than 260 acquisitions, mainly involving medium-sized businesses within the industrial, business services, consumer and health sectors.
In 2017, DeepOcean acquired Searov, a France-based, Africa-focused ROV services company. The year after, we expanded further with the acquisition of the American ROV and tooling services company Delta Subsea.
In 2021, DeepOcean entered into an agreement to acquire a majority stake in Adepth Minerals, a company built for sustainable exploration and extraction of marine minerals.
The same year, DeepOcean also co-founded the Windstaller Alliance, which aims to provide the world's most cost-efficient and complete product supply, fabrication and marine services offering within offshore wind and other offshore renewables segments.