Oxford URNU student, Surgeon Sub Lieutenant Catherine Moore represented Trinity College and Oxford University at the unveiling of the memorial to the crew of Avro Lancaster AJ-A on the 75th anniversary of the raid of the Dambusters Raid.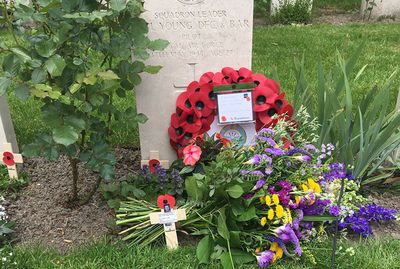 Squadron Leader Henry Melvin 'Dingy' Young piloted A for Apple, one of the Avro Lancaster bombers which flew in the raid on German dams in the Ruhr Valley.
Dingy Young was an accomplished pilot, having earned his nickname after two episodes of being forced to ditch his aircraft in the sea and survive in a dingy. After the second occasion, Young was awarded the Distinguished Flying Cross.
On the night of the raid, whilst the first three aircraft missed the dam, A-Apple hit the dam as did the fifth bomber. On their way home, however, A-Apple was shot down by anti-aircraft fire. The bodies of the crew were buried at Bergen General Cemetery in Holland.
In his time at Trinity College, Young was a member of the winning crew of the 1938 Boat Race and qualified as a pilot through the University Air Squadron.
The 617 Squadron Netherlands Aircrew Memorial Foundation created a beautiful day in the serene setting of Castricum an Zee and at the Bergen General Cemetery.
The bravery of the men and the grief suffered by their families were remembered in speeches made and wreathes laid.
It was a privilege to be able to stand side by side in remembrance with members of the crews families, the Dutch Air Force and the Royal Air Force.