Application Journey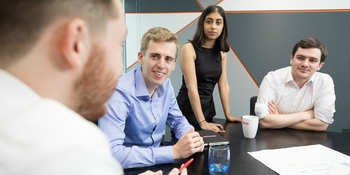 Application submission – The first step is to submit your application online.
Online test – We will invite you to complete a series of online tests.
Video Interview – We will invite you to an online strength based interview. Here you will answer a series of questions to help us find out more about you and your strengths.
Interview – You will be invited to a technical, face-to-face interview, have the exclusive experience of an onsite tour, and find out what life is like at BAE Systems.
Assessment Centre – Applicants for Finance Leader Development Programmes only.
Conditional offer made – If you are successful following interview/assessment.
Vetting – Security and medical clearances; degree verification.
Firm offer made – One all clearances are received, your start date will be confirmed.
Start date - Welcome to BAE Systems and the start of your exciting career.
We encourage and welcome applications from all walks of life and are happy to discuss any adjustments, as required, to support your application. However, as a defence contractor, many of our roles will be subject to both security and export control restrictions, which means that factors including your nationality, and previous nationalities you have held, and/or your place of birth may limit the roles you can perform for the organisation.
Hints and Tips
If you think you have the vision and talent to make one of our opportunities your own, submitting an application is your first chance to show us how good you really are. We receive thousands of application forms every year, so give plenty of time and thought to making sure that yours stands out.
Think carefully about the opportunity, scheme and/or business area you are interested in and your relevant skills when deciding what role you would like to apply for. We are looking for your skills and capabilities to maximise your potential into the career path you choose with us.
Use plain English – you are making a case for yourself and this should be presented as clearly as possible.
Give full details of your degree modules, previous work experience and relevant final year projects – recruiting managers will want to see exactly what you have done and how this meets their requirements.
Make sure you've filled in all the sections of the application.
Finally, best of luck with your application!