Infinite possibilities
At Arup our people are always on the lookout for new and innovative ways to transform the world's infrastructure and built environment.
We offer industry leading apprenticeships across a diverse range of disciplines, which we continue to expand each year. Our apprenticeships provide you with the skills and knowledge needed to succeed in the workplace, with qualifications designed to support your career ambitions.
We are proud to regularly feature as one of the top UK employers of Apprentices. It's a testament to our commitment to providing a solid foundation to your development.
Taking your career forward with Arup
Our aim to provide fulfilling and rewarding careers demonstrates our commitment to our people. From your first day, you'll join an un-rivaled community of experts in a supportive culture where everyone's happy to help and genuinely wants to see you succeed.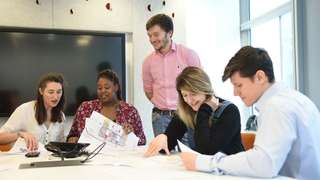 Apprentice recruitment
Each year we recruit around 70 Apprentices across our UK offices, which span 16 locations. We have a strong network of friendly, experienced Apprentices and Graduates who look forward to helping you settle into your role. They've been in your shoes and offer great support and advice to our new joiners, so you're never alone. From the moment you start, you'll also have the support of your manager, your mentor and your education provider.
Our Apprentices start in August each year, and once you've had some time to settle into your team, you'll be invited to attend a Welcome Event to meet other Apprentices from across the firm.