Internships are a great way to learn about the way we work. Each year, we welcome talented students onto our acclaimed Summer and Industrial Placement Programmes. We look for students who are ready to jump into the professional world; diverse individuals with inquisitive minds and a desire to challenge.
You will get to work alongside skilled professionals and contribute to the success of real projects. There are regular learning sessions with our leadership team, site visits to local projects and all kinds of social events. Above all, you will be treated like future graduates, and you'll be perfectly placed to join us when you complete your studies.
A future with purpose
At Arup we strive to make a positive difference in the world, and we're looking for curious students to join us.
Our industrial and summer internships provide a valuable insight into all areas of the built environment. Working on real projects and collaborating with our experienced teams, you'll add value to clients from your first day, whilst exploring your skills and interests.
We are proud to regularly feature as one of the top UK employers of interns. It's a testament to our commitment to providing a solid foundation to your development.
Whether you're looking for a summer role a few weeks, or a longer placement of up to 12 months, we're sure to have a role that interests you and makes the most of your talents.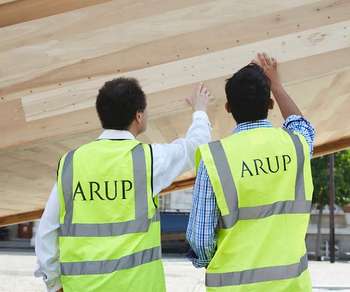 Our scheme
Each year we recruit around 250 interns across our UK offices, which span 16 locations. We have a strong network of friendly apprentices and graduates who look forward to helping you settle into your role. They've been in your shoes and offer great support and advice to our new joiners, so you're never alone.
You'll also have the support of more experienced team members, who are on hand to coach you through your projects.
No two roles are the same, and you'll have real responsibility from day one. Our internships are varied, challenging and rewarding, designed to provide you with real skills that you can carry forward once complete.
Successful internships often lead to graduate positions, and therefore this is a great opportunity to find out what working life at Arup is like, first hand.