A timber storage yard and a printworks in past lives, this SE1 site is the focus of an ambitious, landmark project. Full of firsts, it's a true demonstration how nature-based solutions in building construction make for a healthy response to climate emergency and net zero carbon targets. Long-lasting, adaptable, vibrant and inspirational workspaces are skilfully sewn into the rich seams of a creative community; Timber Square will be a milestone physical manifesto for the future.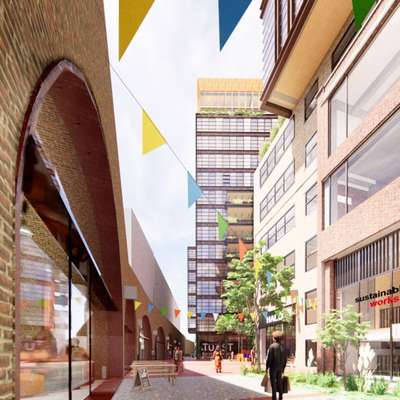 Ground-breaking Design for Performance
Honouring SE1's industrial heritage while standing out as the UK's first large commercial development to use cross-laminated timber (CLT), Timber Square will comprise two sizeable office buildings (The Ink Building and The Print Building) with terraces linked by landscaped public realm. The challenge was to think about design from a fresh perspective and interrogate every decision, with sustainable engineering specialisms working together to tackle the complex tapestry of solutions needed. Rising to the secondary challenge of working remotely, our teams supported one another with learning new technology and working collaboratively within the digital model using BIM360.
Putting timber back at the top of the tree
The way we approached carbon on this project was fundamentally different from how it has been done in the past. Our Sustainability, Performance and MEP teams worked with Landsec to enhance outcomes for building energy efficiency using the NABERS UK design for performance approach, which follows science-based targets for meeting the Paris Agreement. Our Performance team also provided touch-line support to the MEP team to ensure the design incorporated suitable metering to allow the consumed energy to be measured in operation. The CLT floor was extensively modelled and tested to support Landsec in obtaining statutory approvals from Building Control, London Fire Brigade and their insurance providers. Likewise, our Acoustics team developed innovative solutions that will pave the way for Landsec to be more confident in using CLT for future projects by ensuring the floor structure was compliant with the BCO specification to minimise noise and vibration transfer between floors.