How good does your workplace make you feel? Decades ago, this probably wasn't a question anyone considered… but as we understand more and more about the impact of our internal environments, employers are taking conscious steps to create spaces that people thrive in.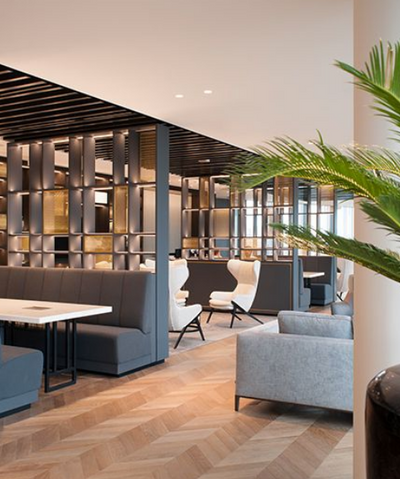 When designed intelligently, efficiently, and with users at their heart, workplace buildings have the power to transform the appeal, productivity, and future of a business. For a multi-national firm like Deloitte with a fundamental design aspiration to "drive cultural change", it was clear this would be no traditional office, in fact it would be an industry-defining world first...
World first.
For us the brief was simple: Deloitte needed to be able to attract and retain the best talent in the industry. The best way of achieving this? Ensure the design of its new landmark UK headquarters would lead the way in being an environmentally sustainable and human-centred workplace – where the health and wellbeing of those people was paramount.
This translated into a truly ambitious target: to be the world's first workplace to achieve both BREEAM Outstanding (the highest measure for sustainable design) and WELL Certified Gold (a global building standard for health & wellbeing).
Learning together.
The ambitious sustainability and wellbeing targets required input from every single specialism. Our Acoustics, Intelligent Buildings, Lighting Design, MEP, Security, and Vertical Transportation teams each had their own targets to work to.
While there was a steep learning curve for all involved, together we provided consistent and practical advice to the client and wider project team, always on hand whatever the query. The aim to be the world's first workplace to achieve both BREEAM and WELL targets drove an enhanced level of collaboration between the project team, and we developed close connections with the client, architect and the technical team at the International WELL Building Institute.
Built to perform.
It was vital that 1 New Street Square not only looked good, but also performed at its best. This drove our appointment as Building Performance Manager during the commissioning, handover and initial occupation phases. Our aftercare team provided support to both the client and contractor and also worked hand-in-hand with the Facilities Maintenance team to promote a smooth operation.
And our performance support doesn't stop there: 620 sensors now monitor the quality of the indoor environment: from air particulates, chemicals and acoustics to the daylight levels and temperature. It was a first for a project of this type, and allows us to continuously optimise the building, ensuring it delivers the best possible environment for Deloitte's people.
Awards include BCO London 2019: Fit Out of Workplace, BREEAM 2019: Commercial Project – Post Construction, Constructing Excellence SECBE 2019: Building project >£10m, Better Society 2019: Built Environment and Corenet Global 2019: Sustainable Leadership Award to name a few.