"We're committed to continuing to ensure we have a motivated and inclusive workforce who are engaged and passionate about serving our customers"
Helen Cook, Chief HR Officer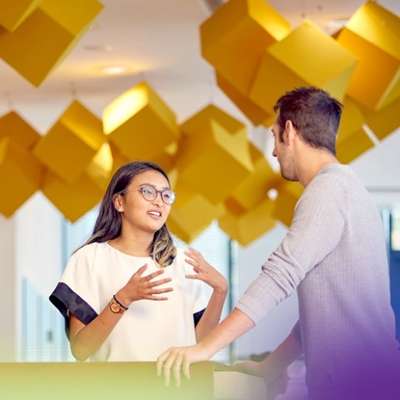 Creating a healthy culture
Our long-term success depends on us building and nurturing a healthy culture where colleagues are engaged, and where our working environment is underpinned by robust risk behaviours.
Our Values guide the way we identify the right people to serve our customers well, as well as how we manage, engage and reward our colleagues. These values are at the heart of Our Code (the Group's Code of Conduct).
To make sure we really live Our Values, we reinforce them in our policies, processes, communications, training and leadership role-modelling.
Performance
Regular performance conversations, coaching and development help our colleagues to do their best every day.
We manage colleague performance and development continuously. Goals are set at the start of the year, revised as needed, and progress, development and feedback are discussed during 1:1 conversations. Priorities and developmental support are reviewed in quarterly check-ins.
We measure colleagues' performance not just on what's been achieved but also how they've achieved it. The Critical People Capability Behaviours represent the 'how' and give us a consistent bank wide behavioural measure.
At the end of the year, colleagues are allocated a rating that reflects their overall performance.