We offer you the opportunity to start a career in high demand areas of the technology and business industries, with acclaimed multinational clients, comprehensive training, hands-on practical experience and support initiatives.
We will equip you with: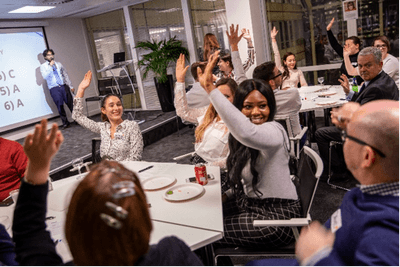 IT and business training from industry experts
Opportunity to achieve relevant certifications
Two years of commercial experience
A foot in the door with one or more of our prestigious clients
Ongoing career support and professional development.
FDM consultants are the heart of our business. From day one you will become a part of the FDM family and will receive support to achieve success throughout your career.
You will work alongside dedicated colleagues and will have the chance to get involved in social events, employee initiatives and reward schemes.
She Lives Tech
FDM's She Lives Tech initiative powers gender equality within the workplace. No tech experience, just graduated, switching careers or returning to work? Whatever your situation, our She Lives Tech Academy welcomes you.
We host and support female-led consultant events and conferences, offering you inspiration and guidance throughout your professional journey.
Testimonials
Natkamon Tuamprathom, Associate Operations Analyst, University of Manchester

"I have been working on numerous automation projects, one of which involved coding brokerage fees into the system, subsequently eliminating the manual trade procedure.

I considered this project to be my greatest achievement as I was able to fully utilise my skills in Business Analysis as well as learn a new skill on the job."

Yuxue Du, Support Specialist, Lancaster University

"My time on-site has allowed me to connect with other experienced individuals, expand my knowledge of computer systems, servers and coding, as well as advance my critical analysing skills.

I am thankful to all the people that gave me endless support, particularly my account manager at FDM and my current team."

Farayi Mukada, Java Data Analyst, Coventry University

"Before I joined FDM, I didn't have any IT experience but had a passion for web development, so I applied for the Software Development stream (Java). I now work as a Data Analyst and as a lead developer on a project, responsible for translating the engineering concepts into insightful visualisations.

The things I enjoy most about my job are the variation, with no two projects being the same, and being able to create tangible end products for users."

Swetha Thanabalasingam, Software Developer, Brunel University

"My placement has been extremely beneficial for myself as both a developer and as a person working in the IT industry.

I have gained a lot of knowledge and skills, but the best part has been the exposure I have had to different languages and systems."
Supporting your progression
We have a number of programmes and initiatives in place to continuously support and engage with our people.
Wellbeing Programme

Our online wellbeing portal provides a range of helpful resources, including professional guidance and advice. Consultants also have support from Wellbeing Ambassadors throughout the FDM community.

Mentoring Programme

We partner consultants with mentors based on their career aspirations and help build long-term professional development opportunities.

Employee Networks

We have multiple employee-led networks designed to offer a group for discussion around shared characteristics and support for those in the community.

Consultant Peer Support

We introduce new 'FDMers' to those already working on-site, to help them settle into their new role.

Consultant Collaboration Platform

On our platform, trainees and consultants can connect, socialise with each other and access helpful resources to aid learning and development.

Alumni Network

Your journey with FDM does not stop when you leave. As a member of our Alumni Network, you'll have access to our mentoring programme, expert speaker events and a network of fellow tech professionals.