To attract and retain the best talent, we offer a comprehensive range of benefits and incentives. Here are some highlights:
Competitive compensation
Expect a competitive salary that matches your talents and role, and rewards your contributions.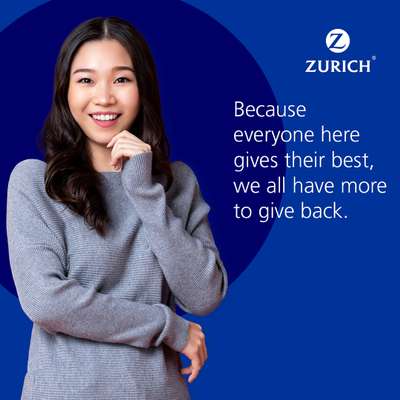 Special insurance discounts
In most countries you'll receive a range of insurance discounts.
International mobility
As a global business, we value the international mobility of our employees. Without it, we simply wouldn't be able to execute our global business strategy successfully. It's also a great way for future leaders to build valuable experience. If you're keen to develop an international career, Zurich is the place to do it. We like to transfer people for the right reasons. If you fit the bill, you'll have all the support you need to ensure your time abroad is a positive experience.
Personalised development
We'll help you make the most of your unique talents through an individual development plan. You can also expect high-quality online and classroom training. Mentoring by senior colleagues will help you develop your interpersonal, business and leadership skills.
Leadership programmes
We focus on developing inspired leaders with the skills and capabilities to execute our business strategy and create an environment where our people can be at their best. That's why, as a leader, you'll have access to our new leadership development curriculum.
Work-Life-Balance
At Zurich, we want to empower people to work in ways that best suit their needs, both professionally and personally, without the traditional limitations of when, where and how work is performed. FlexWork@Zurich is our internal program to enable maximum flexibility with minimum constraints. We offer various opportunities to work flexibly in many of our locations. This ensures our customers get the best service we can offer and gives our employees the opportunity to achieve the best possible performance.