Stimulating challenges. Global awareness. Meaningful work. There are many reasons why Zurich is the intelligent choice for your career. But perhaps the most important one is the value we'll place on your development. You'll have the chance to develop vital skills, explore your passions, and build a rich and rewarding career.
We have a wide range of programmes for university graduates, as well as opportunities for interns. All of them offer a competitive salary and good benefits.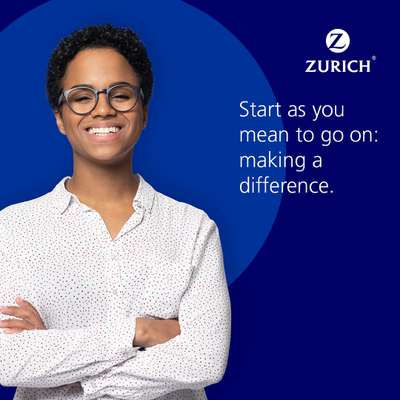 Graduate Programme
Our three year Graduate Programme is tailored to your strengths and realising your individual potential through hands on working and learning opportunities, giving you an insight into the depth and breadth of various teams across the UK business. Whichever program you join, you'll be given meaningful work and real responsibility from the start.
You'll also have access to exceptional business, technical and leadership training, allowing you to get valuable professional qualifications. At Zurich, you'll get everything you need to build an outstanding career and have a positive impact on our customers, people, society and our planet.
Internships
Our Internship programme offers you the opportunity to explore your own unique path and to build a diversity of strengths that will form the solid foundation of a successful career.
Our Internships will provide career-building exposure to real jobs and real work and the opportunity to make a real impact. Along the way you'll get to know how we do business, what drives our people and their success, and what we put first: our customers and the things they love and want to protect. You'll also have access to a host of development activities. We offer career-planning, opportunities to meet and present to senior leaders, and e-learning courses. A dedicated 'buddy' will be there every step of the way to help you through your placement.