As a company, we are supporting our customers to reduce their water usage as well as our own leakage. This underpins our plans to leave more water in the environment and meet customer needs now and in the future. A reduction in abstraction means more water is left in the environment, contributing towards the protection of rare chalk streams which provide important habitats for numerous species in our local communities; from shrimps, dragonflies and snails, to water voles, kingfishers and otters.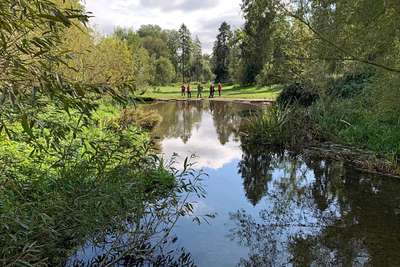 It's not just about having more water in the environment though. Our Revitalising Chalk Rivers programme is creating resilient river systems by restoring the rivers and enhancing habitats. We have been working with the Environment Agency, land owners and other partners to meet Water Framework Directive objectives.
Over the course of time, rivers have been modified to meet different needs - meanders have been straightened to fit better with field boundaries or settlements; they have been concrete-lined to prevent erosion, channels have been created to redirect water to turn mill wheels to produce flour, cloth and paper; weirs have been added to change water levels for fisheries, mills, recreation, watercress production and for landscaping of parklands; dredging of rivers has made them over-wide and over-deep. All of these changes have reduced the variety of habitats and restricts the type of plants and animals that can live there.
These historic changes mean that the rivers are less able to cope with the natural variations in flow including during drought and floods. By improving velocity and encouraging variation in flow we are aiming to enhance the habitat and biodiversity.
We have removed obstacles like weirs, created bypasses around obstacles that can't be removed, narrowed channels to increase speed of water, created meanders, carried out tree management work to allow more light into the channel. We recognise the importance of respecting the landscape in which the river lies and have planted native species of aquatic vegetation to improve river bank habitat.