Our Approach
Our approach to sustainability at Cala has undergone a dramatic transformation. In 2020 we set out to define Cala's commitment to running the business in a responsible and sustainable way, and to empower our employees to own this as part of our culture.
Our new Sustainability Strategy will help us achieve our targets of building homes that are operationally net zero carbon from 2030, and reaching net zero greenhouse gas emissions in line with the Scottish Government's 2045 target and ahead of UK Government's 2050 target.
We realise that we are at the beginning of our journey and undoubtedly have a long way to go, but with our Sustainability Strategy now set in place, Cala are looking towards a greener future.
Cala Homes - Our Approach to Sustainability
What are we doing?
Group Staff
Over 90 employees across the Cala businesses are actively involved in helping to achieve our sustainability objectives as part of their roles, while full-time sustainability technicians have been appointed to explore innovations, implement trials, and measure results.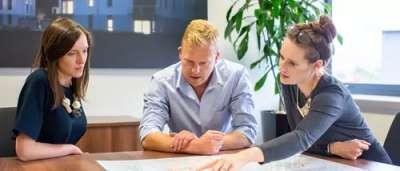 Regional Green Teams
Green Teams have been established in our eight regional offices and two head offices to brainstorm, research and implement initiatives which will help bring about positive change at a local-level – from energy saving and recycling measures within our offices, to employee wellbeing and meaningful community support initiatives.
New technologies
Currently we are undertaking exciting research and testing of various innovations such as infrared heat matts and panels, battery and thermal storage technology, hydrogen and electric boilers, mechanical ventilation systems and more.
External partners
We're also working with utility providers to inform discussions around the decarbonisation of the grid. We have put in place pioneering measures such as utilities calculators and monitoring stations on some of our developments, to provide data which supports our net zero carbon commitment and ties in with wider infrastructure.