About Us
The Cala Group is a major UK housebuilder and leading provider of desirable new homes across Scotland, the South of England & Midlands. Driven by a mission to create vibrant and sustainable new communities, our homes are characterised by exceptional design and sector-leading build quality, and we have a passion for providing our customers with a great home buying experience.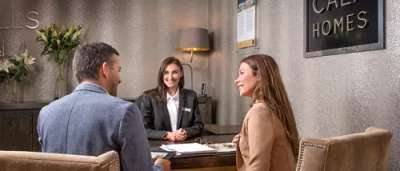 This is an exciting time to be at Cala. Our approach to sustainability and technology is undergoing a dramatic transformation, and we're aiming to create an industry-leading experience for both our staff and customers. At Cala, you can expect to be part of an environment which allows you to do meaningful work, while offering opportunities for personal growth.
About The Role
Cala Homes are looking for a Construction Degree Apprentice to join our team based in Aberdeen
Our Construction Teams are responsible for the safe delivery of homes to our customers, with particular attention to Health, Safety & Environmental matters, Programme Attainment, Product Quality, Cost Management, Contractor and Supplier liaison and a strong customer focus. We work closely with our commercial, technical, sales and customer service colleagues to ensure a team approach.
We are seeking a new team member who is confident with people and has the energy passion and ability to succeed at the highest level.
About You
You will study towards achieving a BSc (Hons) Construction and the Built Environment apprenticeship 1 day per week at Robert Gordon University whilst being a key member of the CALA team. Attendance at University classes is mandatory either online or in person and must be treated in the same way as any other working day.
Alongside studying for your degree, you will gain experience working with a major UK housebuilder and leading provider of desirable homes across Scotland. You will receive on the job training and be given learning opportunities to develop your core skills and help set you up for success. You will also have a dedicated mentor and support from the wider business and peers.
Qualifications required:
Year 1 – 96 SCQF credits at level 6 or Minimum 126 UCAS points, for example:
SQA Highers at AAAB or equivalent;
A-Levels at ABC or BBB;
Scottish Baccalaureate Pass;
Int. Baccalaureate 29 points.
Year 2 - 96 SCQF credits at level 7, for example:
SQA Advanced Highers at BB and SQA Highers at AAAB;
A-Levels at ABB;
HNC in a Construction-related subject with A in the graded unit;
HND in a Construction-related subject with B in the graded unit;
A suitable Modern/Technical Apprenticeship;
Scottish Baccalaureate Distinction;
Int. Baccalaureate 35 points.
Rewards and Benefits
Private Medical Insurance
Employee Assistance Programme
Virtual GP
Generous Pension Scheme
Bonus/Commission
Employee Discounts
Long Service Recognition
Generous Holiday Allowance (including holiday buy/sell and carry forward options)
Personal Development
Advanced entry to second (or third year in extraordinary cases) may be possible if the candidate possesses more advanced prior learning or experience.
Candidates with relevant and demonstrable work experience will also be considered.
We've signed the Gradcracker feedback pledge.
(This means that we will supply feedback if requested after an interview.)
1e127ede32d8f816eacfb0aed73cee11