Our approach
We create the technology to connect the world and we aim to do this in a sustainable way. We realise we have the greatest impact on sustainable development when we work with other stakeholders. We believe technology will continue to play a key role in accelerating and achieving all 17 UN Sustainable Development Goals.
At the heart of our business is connectivity and the access and services it provides to improve lives in so many ways. Purpose and sustainability are embedded in how we operate and in the solutions we provide. We take responsibility for our actions and impact on the world, minimising potential negative impacts while maximising the many potential positive impacts of the technology we create.
We have refocussed our sustainability strategy. To improve people's lives we will focus on the areas where we believe we can have the greatest impact and drive business benefits. These focus areas are:
Climate – combatting climate change through mitigation and adaptation solutions will grow in importance
Integrity – emphasising the importance of respect for ethical behaviour, security and privacy
Culture – ensuring our ability to attract the best talent and creating high performance inclusive teams that make things happen.
All areas underpin our purpose to improve people's lives with technology.

Awards and recognitions
We are proud to have been recognised for the achievements and actions carried out by our employees to enable a more sustainable business, products and planet. A few recognitions are listed below.
Carbon disclosure
In January 2020 we were again ranked at leadership level by CDP for our work on and disclosure of climate change data in 2019. The CDP questionnaire is aligned with the recommendations put forth by the Task Force on Climate-related Financial Disclosure (TCFD).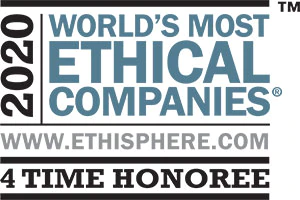 CDP
Ethical business: In February 2020 we were named for the third consecutive year (2018-2020), and the fourth time overall as one of the World's Most Ethical Companies by Ethisphere and one of only six honorees in the telecommunications industry.
World's Most Ethical Companies" and "Ethisphere" names and marks are registered trademarks of Ethisphere LLC.
2020 WME
Carbon disclosure in supply chain: We have again been recognised as a global leader for engaging with our suppliers on climate change, being awarded a position on the Supplier Engagement Leaderboard by global environmental impact non-profit CDP.