Our vision is to create the technology to connect the world. This vision supports inclusion by working to create a more connected and better world for everyone, not just for some. This aspiration is carried through our strategy, right down to the contribution of every person at Nokia. We do not allow for any type of discrimination or discriminating biases, which is reflected in our employment practices and our guiding corporate values.
Gender Diversity
We believe that a diverse workforce is our platform for greater innovation, superior organisational performance, and delivering excellent service to our customers. Our aim is to have a workplace where men and women have equal opportunities to succeed in every function and at every level. As part of a related programme we have implemented several initiatives to drive for gender balance.
We made a decision to achieve pay equity by closing the 'unexplained pay gap' in 2019. That required a meaningful financial commitment, but it was simply the right thing to do.
We have two strong networks focusing on gender equality related topics: Greenhouse and StrongHer. While Greenhouse initiated by Nokia is a network of female leaders that spans across many companies, StrongHer is an employee network with the aim of ensuring women have the same opportunities as men and are well represented in all business domains and functions.

A Global Team
Our leadership is diverse and advocates for global anti-discrimination practices. Our employees represent around 166 nationalities doing work in over 118 countries. And we are pleased to have ten of these nationalities represented on our highest-level global leadership team.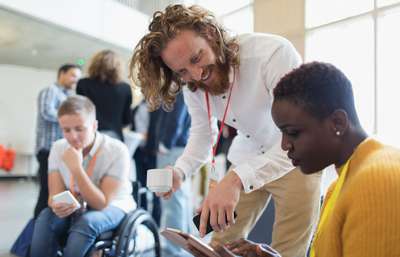 No limits to opportunity
Disabilities range from physical impairments to psychological problems, and most of them are not visible at all. While disability correlates with disadvantage, not all people with special needs feel disadvantaged or are equally disadvantaged. Much depends on the context and environment in which they live, and whether they have equal access to health, education and employment, among others.
LGBT+
LGBT+ equality. We were awarded with "Best Places to Work for LGBT+ Equality" by Human Rights Campaign Foundation's Corporate Equality Index with a score of 100%. The HRC Corporate Equality Index is a US national benchmarking tool on corporate policies and practices pertinent to LGBT+ employees.
EQUAL! is an educational and support group for our employees who are lesbian, gay, bisexual, transgender (LGBT+) or who have family, friends, or colleagues who are LGBT+.
Workplace Pride. We became a member of Workplace Pride so we can work on further improving LGBT+ inclusion globally at Nokia.