With an annual turnover of £767m, we are a trusted delivery partner to a range of prestigious clients across a broad spectrum of sectors including education and health, highways and rail, and commercial and retail.
See some of our projects below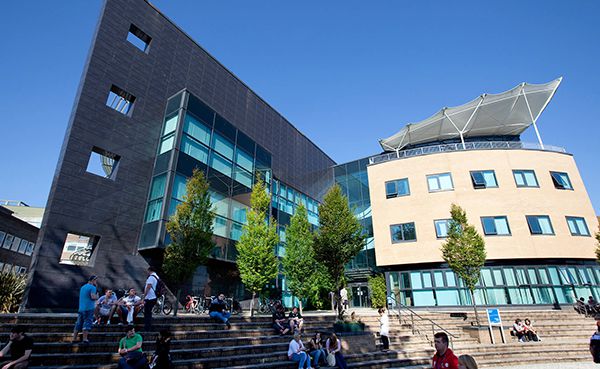 Swansea University and Gower College
We provide exceptional student-focussed Reactive Property Repairs and Minor Works to Swansea University and Gower College.
Beginning in 2015, our partnership coincides with an exciting time of expansion for the University and College, which our dedicated, campus-based team support through the delivery of bespoke technical solutions.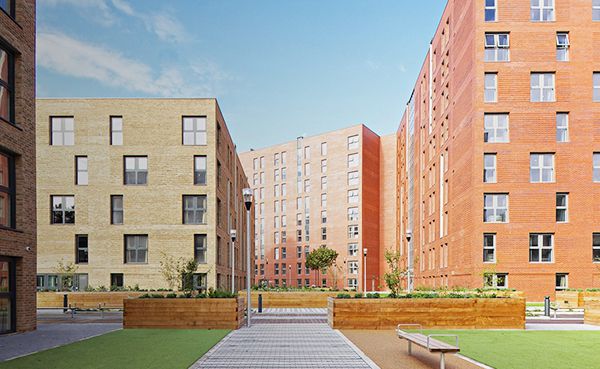 Peel Park Development, University of Salford
Revolutionising student accommodation, the University of Salford's Peel Park Campus has subverted traditional perceptions of student living.
Modern, luxurious and built to deliver a lasting impact, this multi-use University quarter, inclusive of nine residential blocks on two separate sites and 1367 modern study bedrooms, is now a stimulus for the University of Salford's student recruitment strategy.
A model for public and private sector partnership, we jointly invested and developed this £81 million project on budget during an intensive 90-week construction phase before handing over ahead of schedule.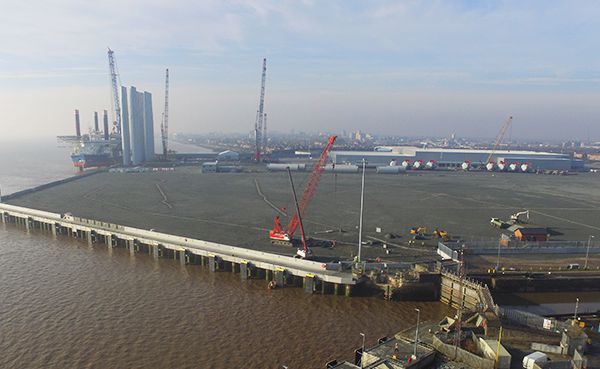 Engineering Hull's 'Carbon to Clean' vision
Featuring the maiden project of the world's largest dredger (Manu Pekka), one million tonnes of imported Norwegian Stone and one million cubic metres of sand, this major £114m redevelopment of Alexandra Dock has revolutionised the Green Port Hull's functionality.
Part of a Joint Venture with Lagan Construction, our team creatively designed, and constructed, the Port to accommodate three offshore wind installation vessels on behalf of Associated British Ports' (ABP) end user Siemens.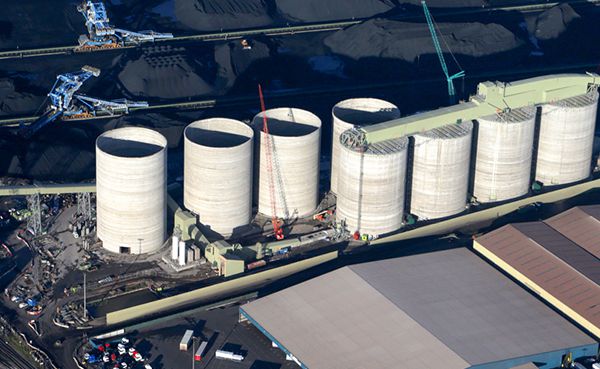 Immingham Renewable Fuels Terminal (IRFT)
Positioning clean power at the heart of the economy, the Immingham Renewable Fuels Terminal is the world's largest dedicated biomass handling facility.
Award winning in its design and construction, the 11.5-acre site handles over six million tonnes per year, stores 200,000 tonnes of wood pellets and features eight silos with a total capacity of 336,000m3 – equivalent to 120 Olympic-sized swimming pools.
Record breaking in its own right, the Terminal facilitated the world's largest ever single shipment of biomass, almost 60,000 metric wood pellets, in July 2015.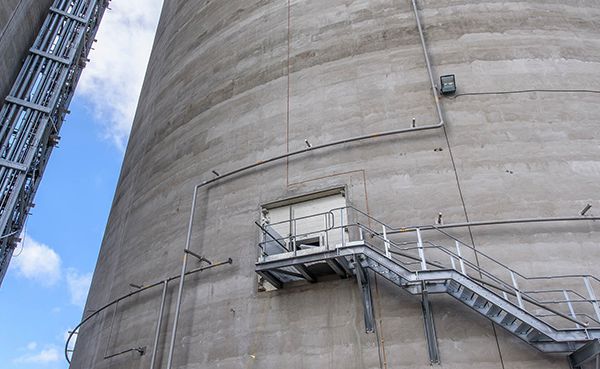 Gladstone Biomass Handling and Storage Facility, Liverpool
Recognised as a "truly stunning project" by the Institution of Civil Engineers (ICE), the £85m Gladstone Biomass Handling and Storage Facility is a core supply chain component of the largest decarbonisation project in the EU taking place at Drax's Selby Power Station.
A feat of complex engineering, this truly automated bulk-handling facility, designed and built by our experts over a 19-month programme, is capable of handling three million tonnes of wood pellets a year.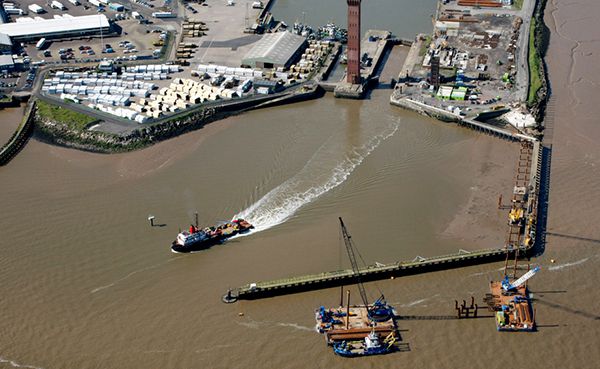 Grimsby River Terminal, Associated British Ports – Grimsby Port
Heralded as future-proofing the town's vital role in the global automotive industry, the £26m Grimsby River Terminal represents the largest investment in the Port of Grimsby's 160-year history.
Lauded as the Project of the Year by Construction News, and awarded an Institution of Civil Engineers (ICE) Engineering Certificate of Excellence, our innovative alternative pontoon design achieved over £1m in savings and features, what is believed to be, the second largest radial arm pontoon in the world.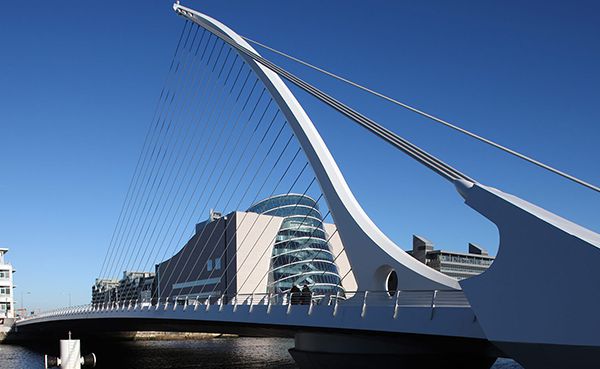 The Samuel Beckett Bridge
The Samuel Beckett Bridge is a €40m signature structure acting as a maritime gateway for Dublin's Docklands.
With inspiration for its design reflecting the national emblem of Ireland, the harp, and named after one of the island's most preeminent writers, Samuel Beckett, GRAHAM and our Joint Venture Partner Hollandia converted world-renowned artist and architect Santiago Calatrava's vision into a stunning reality, on time and within budget.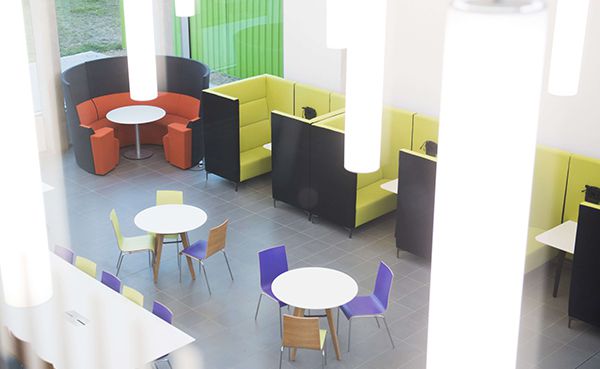 University of Reading Framework
Appointed as one of a select group of contractors to the University of Reading's 'Buildings Works Framework', we are supporting the delivery of its £250 million building programme over the next 15 years. Trusted as the preferred contractor for the £22.7 million first phase construction of the Thames Valley Science Park, we led on the construction of a multi-functional new three-storey Gateway Building, which marks the landmark entrance to the Park.
Although not part of the Framework, we also began work, in January 2017, on a cutting-edge £30 million Proton Beam Therapy Centre on behalf of Proton Partners International (PPI) who have leased a plot on the Science Park site.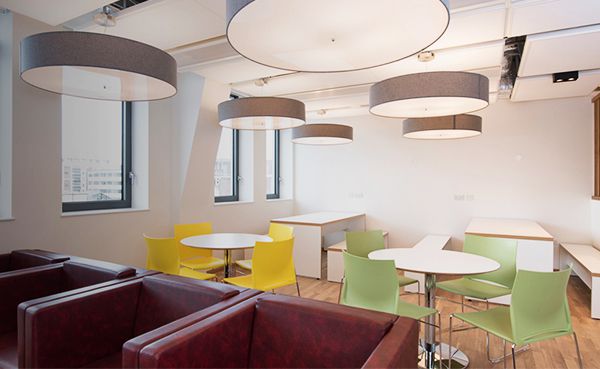 University College London, Courtauld Building
Having been dormant for almost ten years, University College London's (UCL) Courtauld Building was comprehensively remodelled to create a pioneering research facility for the Medical Research Council's (MRC) prestigious Prion Unit.
Our two-stage design and construction project, completed over 36-months and handed over in Spring 2018, has brought life back into the previously unoccupied building. Importantly, the £17m scheme has maximised useable advanced teaching and research space and delivered a more energy efficient, BREEAM Excellent rated building, which has established the perfect conditions for ground-breaking research into degenerative diseases of the brain.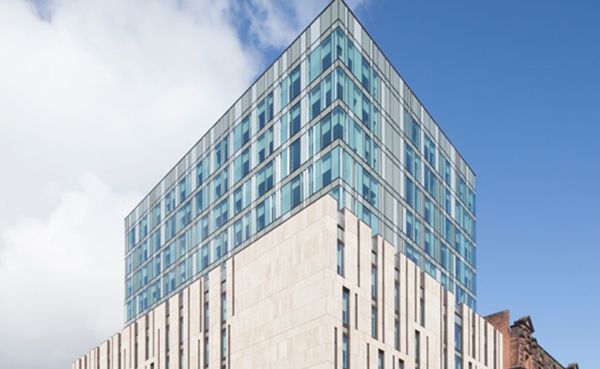 University of Glasgow, Elgin Place (Bath Street) Student Accommodation
Built on the site of the former A-Listed Elgin Place Congregational Church, this iconic Glasgow landmark has been reimagined as an ultra-modern sanctuary for student living as opposed to a place of worship.
Known as iQ Elgin Place, our design and build project, which took 88-weeks to complete, features 323 units of single occupancy studio rooms in a variety of configurations within 14-storeys, offering unparalleled student accommodation to Glasgow's thriving undergraduate community.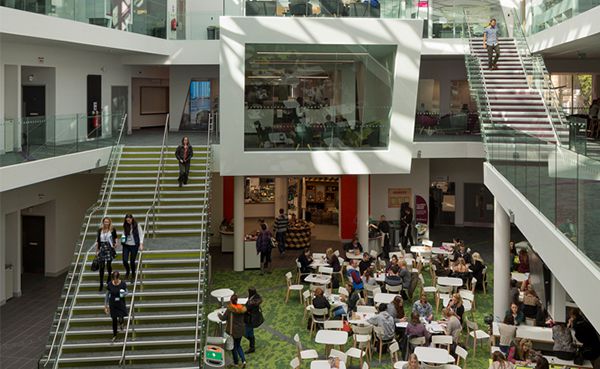 Sheffield Hallam University – 'Heart of the Campus'
Literally and metaphorically the 'Heart of the Campus', this major £18.8 million development has radically transformed the student experience at Sheffield Hallam University.
Replacing low grade, redundant accommodation, the Royal Institute of British Architects (RIBA) award winning new build provides 9500m2 of iconic teaching, social and office space within a picturesque 'Conservation Area'.