To accelerate research and improve patient outcomes, the world's first centre for recurrent head and neck cancer has been launched at The Royal Marsden NHS Foundation Trust thanks to Royal Marsden Cancer Charity funding.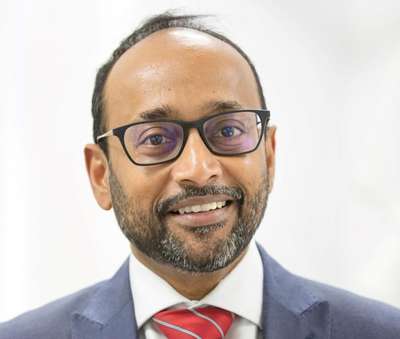 The International Centre for Recurrent Head & Neck Cancer (IReC) brings together a team of world-class clinicians and researchers to advance research into the disease. IReC also aims to set international standards in the curative treatment, palliation, and supportive care of recurrent head and neck cancer to improve patient outcomes in the UK and beyond.
To help achieve these objectives, IReC has today announced a series of initiatives including:
A national registry to better understand recurrent head and neck cancer and capture variation in how it is treated across the UK.
A tissue biobank to support laboratory and translational research.
An International Referral Centre to offer rapid second opinions for patients being treated in the UK and internationally.
New hospital staff, including three PhD research fellows, trial managers, a clinical trial nurse and a data manager, are also being funded to increase research capacity.
Head and neck cancer is an umbrella term for cancers of the nose, mouth, throat, voice box, thyroid and salivary glands. It is the 8th most common form of cancer in the UK with over 12,000 cases diagnosed each year. It is estimated that between 20% and 40% of head and neck cancers will return after treatment and, in England, between 28% and 67% survive their disease for five years or more.
Over the next ten years, IReC aims to launch more ambitious projects to improve outcomes for patients in the UK and internationally. This includes the creation of an international network of centres to rapidly roll out clinical trials and a genomics hub to enhance diagnostics and offer personalised treatment.
IReC is being funded by The Royal Marsden Cancer Charity thanks to the generous support of Charles Wilson and Dr Rowena Olegario, and Keith and Isabelle McDermott.
IReC Director Professor Vinidh Paleri, Consultant Head and Neck Surgeon at The Royal Marden, said:
"Treating recurrent head and neck cancer is incredibly challenging as these patients have already been treated, often with surgery and radiotherapy, which can cause anatomical changes, scarring, and impaired healing. This means successfully treating the disease requires access to multi-specialty expertise, the latest drugs and surgical technology.
"However, patients with recurrent head and neck cancer in the UK face inconsistent access to treatment, with many treated palliatively not curatively. We also don't know enough about the disease's incidence or outcomes as national databases do not provide this information in detail, unlike for primary cancers.
"Through IReC, we aim to transform the treatment and care of recurrent head and neck cancer. From building a better understanding of how the disease is managed across the UK through a national registry, to funding research into novel treatments and minimally invasive surgery, our work will drive better outcomes for patients at The Royal Marsden and across the world."
Royal Marsden patient Mark Fuller, 60 from Surrey, was diagnosed with recurrent throat cancer in 2019 and treated with robotic surgery at The Royal Marsden, after doctors initially thought treatment would not work. Two years later, Mark is cancer-free. He said:
"I was initially diagnosed with throat cancer in 2016 and was treated at the hospital with chemotherapy and radiotherapy. Unfortunately, three years on I noticed an orange lump at the back of my tongue after having a sore throat. My GP referred me back to the hospital where it was confirmed I had stage 4 cancer, with my medical team initially thinking palliative care was the only option.
"However, Professor Paleri decided that the cancer was potentially operable, and my surgery was scheduled for 2 June. I was told that, if the robot couldn't remove all of the tumour, they would need to cut my jaw open. I had visions of looking like the monster from Predator, so I was relieved to wake up from the 14-hour surgery and find my chin was intact.
"After the operation, I was in hospital for eleven days and within three weeks I played my first round of golf. As my tongue is now smaller – a chunk of my leg was used to rebuild it – my speech and swallowing was affected. I've gradually improved though 'k' and 'e' sounds are difficult, so I struggle to say words like 'keys' and 'cleaning' – which is challenging as I work in property management! "I owe my life to Professor Paleri and his exceptional team at The Royal Marsden, and I hope IReC will ensure many more people with recurrent head and neck cancer will benefit from innovative research and treatment."
Charles Wilson, former Booker CEO and the founding donor of IReC, said:
"Having been diagnosed with throat cancer three years ago, it is a privilege to support Professor Vinidh Paleri and his amazing team in helping found the International Centre for Recurrent Head & Neck Cancer. The need is great and the analytical, surgical and clinical expertise at The Royal Marsden is mind-blowing. The research could make a huge difference to patients around the world."
The Royal Marsden's Head and Neck Unit is one of the largest of its kind in Europe and has helped to pioneer many advances in the management of recurrent head and neck cancer over the last two decades. This includes leading practice-changing international trials on immunotherapy as well as developing new robotic surgical procedures to treat the disease.