About us
The Royal Marsden has a vital role in championing change and improvement in cancer care through research and innovation, education and leading-edge practice. We are incredibly proud of our international reputation for pushing the boundaries and for our ground-breaking work ensuring our patients receive the very best and latest in cancer treatment and care.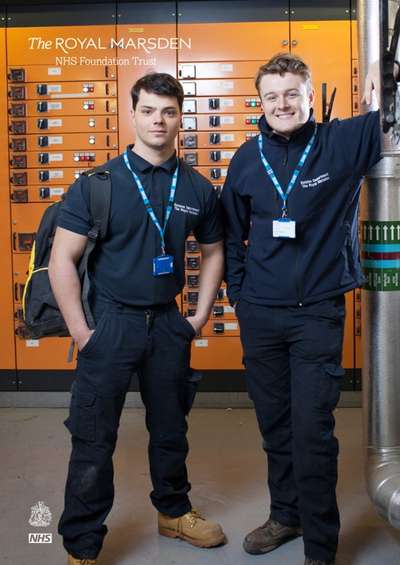 The Royal Marsden NHS Foundation Trust Estates Department provides a highly effective and efficient service to support frontline clinical delivery and patient care and critical infrastructure and building services maintenance. It has a direct and key role with respect to infection prevention and control and sustainability across the Trust.
The role
The Estates Department is responsible for providing the safe execution of planned, reactive, and emergency maintenance and minor capital works for The RMH Trust. You will assist the Energy Manager in providing a safe, efficient and effective service to patients, staff and visitors.
As an Undergraduate Engineer, you will assist the Energy Manager. You'll monitor the Royal Marsden Trust energy and environmental resources, minimising its impact on the environment. You'll assist Estates Project Managers and Estates Managers/Officers with supporting the management of the Estate, delivery of Estates services and management of projects.
You will gain valuable work experience in:
Project management and estate & facilities management
Site inspections, surveys and investigations
Supervising and overseeing contractors, consultants and works and liaising with Trust staff and user departments
Producing business cases, data collection and analysis, producing reports and presentations.
You will be responsible for:
Assisting Energy Manager & Estates Operational Managers
Undertaking energy, carbon and environmental analysis
Developing/updating AutoCAD and CAFM records/reports
Supporting with development of business cases and analysis of capital projects and operations & maintenance
Supporting with increasing estates premises assurance, service transparency and data quality
Undertaking energy, carbon, environmental analysis and Organising meter readings frequency.
What you'll need
Education/Qualifications
You have completed your 1st year degree without re-sits in one of the following disciplines: Mechanical/Electrical/Building Services Engineering degree.
Experience
Essential: Held position at school or member of a school team which demonstrates ability to work in a team, exercise a degree of leadership or initiative.
Desirable: 6 months work experience.
Skills/abilities/knowledge
Essential: Excellent interpersonal skills and be able to work well in a team. To want to help people.
Desirable: Ability to diffuse volatile situations and ability to communicate with people.
Other Requirements
Essential: Be able to plan own work. Ability to carry out all aspects of the role and good attendance
Desirable: Working on own initiative. Emotionally robust.
The hours
Full time: 37.5 Hours per week
Part time: 18:75 Hours per week

Part time option is only available for the students continuing with their full-time study.
We've signed the Gradcracker feedback pledge.
(This means that we will supply feedback if requested after an interview.)
1e127ede32d8f816eacfb0aed73cee11