Our trainees teach various subjects in schools throughout England. Schools are in the greatest need of science, maths, computing and modern foreign languages trainees.
Your passion for a subject can inspire great things, whether it's the push a young person needs to get a pass in their GCSEs or the first step on the road to a career that will fulfil and reward them.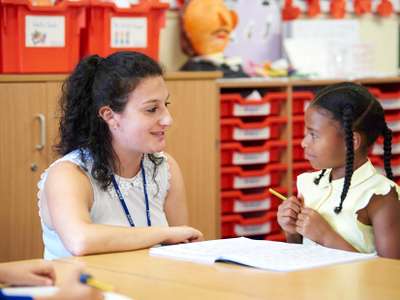 Here's how you're paired with a subject:
Rank your subject preferences in your application. You can only teach a subject if you meet our eligibility requirements (see "Are you eligible?" below).
Decisions on what and where you will teach are made based on your expertise and, crucially, the needs of our schools. We want to place you where you can make the most difference.
When we find the right candidate, we fill the vacancy, so apply as soon as you can.
You'll be matched to a subject and location once you get a place on our Training Programme. We'll then begin working to find the right school for you.
Where could you teach?
Some things to consider about where you might be working:
We only partner with schools in low-income areas, as we're committed to building a fair education for all.
You'll have the opportunity to list your location preferences in the application form.
While we will consider your preferences, schools' and pupils' needs come first. So it's best to be as flexible as possible.
If there's a reason you need to be in a certain location, such as a mortgage or caring responsibilities, talk to us before you apply. Once you've opened your application you'll have a dedicated recruitment contact who'll be happy to help.
Wherever you go there'll be other trainees. We'll help you make contact with them, settle in and find accommodation.
Are you eligible?
There are some minimum requirements to join the Training Programme:
You're a UK citizen or have the right to work in the UK.
You have or are expecting a 2.1 degree (with Honours) or higher (2.2 will be considered in certain circumstances).
Your degree and/or A-levels meet our curriculum requirements.
What if you have non-UK qualifications?
You can still apply. Add your overseas qualifications to the online application form. If we make you an offer we'll need proof they're equivalent to the UK ones we require – we'll help you do this at the time.