Get ahead with your career
Our Early Careers community get really excited about their career prospects at Edwards. The projects are leading-edge and involved, the experience stimulating and the rewards are first-class. But best of all, there's a real sense that you're being listened to. You have a voice from the moment you step through our doors. Your personal development matters. After all, in the long-run, it's as good for us as it is for you.
We offer numerous opportunities across our global business. You just need to decide what's the right starting point for you!
Year in Industry Placements
If you're passionate about change and want to get a head start in your career, then an internship at Edwards could be for you. We're looking for outstanding students, with questions that go beyond textbooks.
Think this is you? Join us.
Our Year in Industry programme offers students who are still at University the opportunity to experience time in a global company. You could be working in our labs developing new concepts and innovations for our customers or researching into new breakthrough technologies for our vacuum solutions.
It's an amazing insight into life inside an organisation that is growing and developing at an incredible rate. Typically, the programme lasts for 12 months as a paid placement.
Graduates
"The whole point of the graduate scheme is to learn."
Exploring Edwards' graduate schemes
Why invest in your career with us?
We want to grow our graduates as experts, so we tailor our programmes around developing your core expertise within a variety of roles.
We offer a number of graduate programmes to meet the needs of different parts of our business. Our opportunities cover expertise fields in Engineering, Research & Development, Business IT, Manufacturing and Procurement.
What does this mean for you? You will develop valuable skills and experience. You could be asked to develop new concepts for our products or look at new ways to market our products in new territories or with new customers.
We firmly believe in providing a meaningful experience to grow our graduates and we're not afraid of challenging you above the norm. You'll have access to a mentor, an experienced leader in the business guiding you and your development programme will open you up to new ways of thinking and working. Click here to find out more and apply.
Degree Apprenticeships
Here at Edwards we believe in investing in our Future and our Future is you.
Achieve your career aspirations without the financial burden. Upon completion you will gain a degree in your chosen field as well as valuable practical work experience. In addition, you will earn a salary & qualification whilst also working towards professional industry accreditation.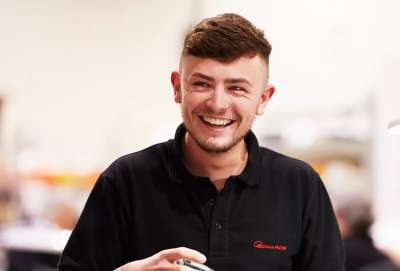 Through the delivery of workshops, seminars and practical lab-based activity, as well as rotational placements in the workplace alongside some of the best engineers in the Industry, you will develop your skills as a capable and confident engineering professional.
We offer Degree Apprenticeships in various subjects and sites within the UK including but not limited to;
Manufacturing Engineering
Electronic/Electrical Engineering
Digital & Technology Solutions Professional
Embedded Electronic Systems Design Engineering