About FDM Group
Take the Step into Tech : FDM Group
At FDM our people are our passion and that's why we make your training and career growth our priority. We are a global professional services provider focusing on IT and one of the UK's leading graduate employers, recruiting the brightest talent to become the innovators of tomorrow.
With our industry relevant training and continuous support, you will embark on an exciting new career in technology or business and work with our global strategic partners that include some of the biggest companies in the world. We have centres located across Europe, North America and Asia-Pacific and we currently have 4,500+ consultants working with over 200 high profile clients.
FDM Careers Programme
Our award-winning Graduate Programme is an excellent way for recent graduates to enter the job market after university. Technology makes the world a better place, and we believe passion, drive and curiosity are what you need to have a successful career in IT or business.
As part of the programme, we will provide you with 6-14 weeks of comprehensive training in your chosen career path and the opportunity to gain industry recognised certifications.
Once you have completed your training through one of our academies in London, Leeds or Glasgow, you will start your two-year placement with one of our leading clients, working on-site as a fully integrated member of their team.
During your time with FDM, you will receive continuous support and will benefit from invaluable commercial experience with our high-profile clients in various sectors.
Many graduates see their placement culminating in a permanent contract with the client.
We offer training in the following areas:
Technical Services
Software Development
Business Intelligence
Cloud Computing Engineering
Robotic Process Automation
Software Testing
Technical Operations
Data Engineering
Business Services
Business Analysis
Project Management
Risk, Regulation and Compliance
How can you join FDM?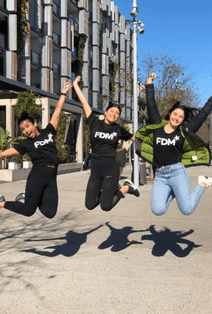 We will provide you with all the training and expertise you need to thrive in your new role and will support you in upskilling throughout your journey with us.
After completing your online application, if successful, we will invite you for a telephone screening followed by a video interview and an online test to assess your skill set.
At the final stage, you will attend an assessment where you will face three strengths-based interviews – 15 minutes each – and get a chance to meet other graduates you could be training with.
If you are not sure which career path you would like to pursue, you can choose to apply for the general Graduate Programme (either for Technology or Business) and we will help you decide which role is most suitable for you.
We are a member of the Gradcracker Five-Year Club
We have been a Gradcracker advertiser for at least five years. We recruit regularly and should still be doing so whenever it is time for you to apply for placements or graduate positions - make sure that you Follow us to be alerted to any of our new opportunities.