CGG is significantly expanding its high-performance computing (HPC) capacity to support both the continued advance of our industry-leading subsurface imaging technology and services, as well as the growth of our specialised HPC offerings to new and existing clients in the energy, environmental and other industry sectors.
The company recently signed a lease to build a new European HPC hub in Southeast England that will become operational in H1 2023 and increase its cloud HPC capacity by up to 100 petaflops.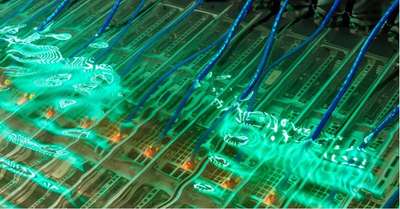 The new hub builds on over a decade of cutting-edge HPC innovations and experience at CGG, including mineral oil-based liquid cooling to implement high power density and high-efficiency full-immersion environments at CGG's Houston facility. In addition, as part of CGG's commitment to green energy and reduction of its GHG Scope 2 emissions to meet its pledge to become carbon neutral by 2050, the new hub will be powered with 100% renewable energy, as are CGG's other UK operating sites.
The image shows oil immersion of servers, which offer greater energy efficiency and reduce the environmental impact of data centres, as it ensures most of the energy is used by the IT equipment. In addition, unlike in air-cooled data centres, the systems are very quiet, making it a much pleasanter and safer environment for people to work in.
With industry and businesses requiring ever greater compute capacity, HPC data centres face the triple challenge of rising power costs, increasingly dense servers, and the growing need to reduce energy usage to limit their carbon footprint.
To keep pace with ongoing HPC developments a key requirement will be the ability to cool the next generation of ultra-dense and hot HPC systems. While conventional cooling methods, such as air, have reached their limits for industrial deployment, the adoption of liquid immersion technology, such as mineral oil, is now accelerating as a powerful, cost-effective and sustainable solution to cool the densest computing systems.