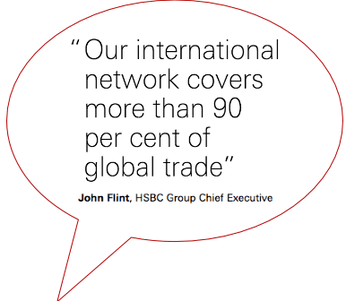 About us
Around the world, growth is bringing new prosperity; businesses are pioneering new trade routes; and new centres of wealth and influence are emerging. Throughout its history, HSBC employees have been dedicated to connecting customers to this growth, enabling business to thrive and economies to prosper. With 3,800 offices in 65 countries and territories, serving more than 40 million customers in both established and emerging markets, HSBC are well positioned to create sustainable growth whilst serving our customers.
HSBC is looking for new students and graduates who are motivated by this purpose and are dedicated to the communities we serve. They are looking for collaborative and curious thinkers, with the courage to challenge the status quo and the motivation to make a positive impact for customers.
Our careers
HSBC puts diversity at the heart of their business, because they understand how important it is both for commercial success and their customers. They want a connected international workforce of unique thinkers, that reflects the communities and markets in which they serve to help meet the needs of all their customers. That's why they hire, develop, and promote employees based on merit and provide an open, supportive, and inclusive working environment. They also provide tailored training and support to help employees flourish in their chosen career path.

Our programmes
Students and graduates can apply to join internship and graduate programmes across the bank in the following areas: Commercial Banking, Operations, Technology, Global Banking and Markets, Global Private Banking or Retail Banking and Wealth Management, including Global Asset Management.
The journey begins with an induction to prepare successful applicants as they start their graduate programme. From there they will join their chosen business area and work with talented colleagues, supported by mentors as they progress. The technical and personal development training graduates receive will ensure they're well equipped to achieve their full potential.