The AW159 is a new generation multi-role military helicopter that retains the key design features of the Lynx, one of the world's most successful naval helicopters and the world helicopter speed record holder (over 400km/h).
It continues the Lynx legacy, while providing increased mission capabilities and performance thanks to the wide range of cutting-edge mission equipment and a multi-role configuration. These allow the helicopter to be configured for various types of missions including search and rescue, battlefield and maritime surveillance, in addition to Anti-Submarine Warfare (ASW) and Anti-Surface Warfare (ASuW) missions.
In the UK, the AW159 helicopter is a key platform for the British Army and Royal Navy, with a 62-strong fleet of the Wildcat variant of the aircraft. Leonardo performs a crucial ongoing role in this area for the Ministry of Defence, delivering support and training services from its world-class helicopter manufacturing facility in Yeovil and the dedicated Wildcat Training Centre at RNAS Yeovilton. The helicopters fulfil a range of operational roles including ASuW, ASW attack, maritime surveillance and battlefield reconnaissance.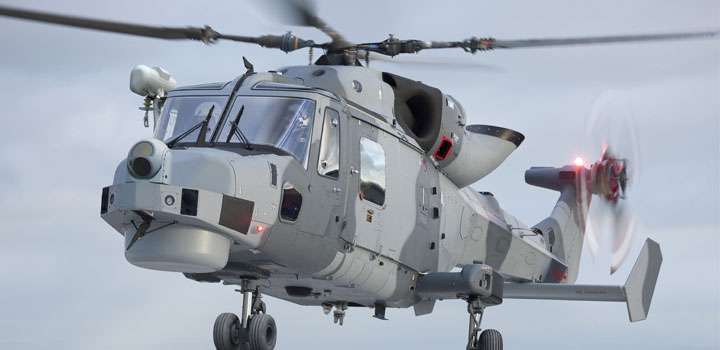 The AW159 is the best helicopter in its weight class to perform naval missions from ship or shore bases. It is equipped with a state-of-the-art fully integrated avionics and mission system that uses four large cockpit display screens to present the crew with flight and mission data, enhancing the crew's effectiveness by rapidly providing them with tactical information. Additionally, the AW159 is equipped with the latest generation mission equipment including Leonardo's Seaspray 7000E series 360-degree scan AESA multi-mode surveillance radar and a nose mounted electro-optical device.
Another advantage of the AW159 is its semi-rigid rotor head, which ensures precise control and high manoeuvrability, which are especially useful when landing on ships in adverse weather conditions. The AW159's composite rotor blades leverage on the same technology that allowed the Lynx to break the world speed record.
The AW159's operational advantages can be summarised by the helicopter's proven ability to take-off and land in extreme weather conditions from small naval ships and its excellent performance in hot and high conditions. With a maximum take-off weight of 6,050kg, the AW159 can carry a range of armaments for a flexible response to tactical situations. It is fully marinised and optimised for operating from small ships with limited hangar and deck space.