What is life like at Graphcore?
As a Graduate, you will have the opportunity to work on high-profile and meaningful projects from day one. We have developed a programme that allows you to enjoy on the job experience as well as building your knowledge through a comprehensive and tailored training and development plan.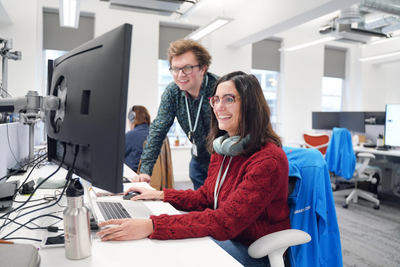 Working at Graphcore is challenging and rewarding. In addition to your salary, we provide tangible benefits, including pension, health insurance, life cover and we trust you to take as much holiday as you need while being accountable for getting your work done to the best of your ability. All employees receive share options, giving everyone a stake in the future success of the business.
---
We ensure Graphcore is a great home for everyone.
There are a large amount of social activities from cycling, yoga, running and football right through to a board game group.
We also have a company social evening every 3 weeks where all employees can come together outside of the workplace.
Our office team is around to help out with the small stuff, so people can concentrate on what's important both personally and professionally. We have a kitchen well stocked with healthy food, drinks and snacks and our very own barista.
We welcome people of different backgrounds and experiences and are committed to building an inclusive work environment that makes Graphcore a great home for everyone.
We are an equal opportunity employer and want to build a work environment where everyone is happy, productive and respectful so they can do their best work. If you have a disability or additional need that requires accommodation, just let us know.