STRABAG is a European-based technology partner for construction services, a leader in innovation and financial strength. Our services span all areas of the construction industry. We create added value for our clients by our specialised entities integrating the most diverse services and assuming responsibility for them. We bring together people, materials and machinery at the right place and at the right time in order to realise even complex construction projects – on schedule, of the highest quality and at the best price. In short: We assume a part of the risk, thus relieving our clients.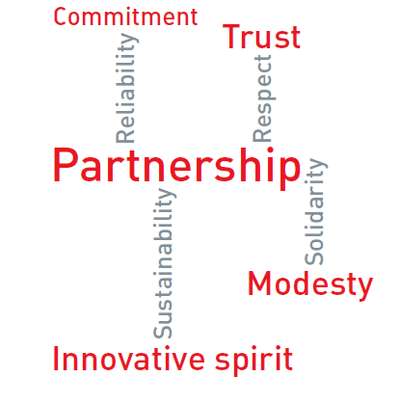 Thanks to the hard work and dedication of our more than 75,000 employees, we are one of the few companies capable of offering services along the entire construction value chain – from design to planning, from construction to property and facility services, from operation all the way to demolition. In this way, we generate an annual output volume of around € 16 billion. At the same time, a dense network of numerous subsidiaries in many European countries and on other continents is helping to expand our area of operation far beyond the borders of Austria and Germany. This broad diversification puts us in a position to build cost- and resource-effectively.
We keep our mission statement in mind when planning our future and distributing our resources – such as financial means or employee capacities – within the company.