Today's connected society demands an integrated approach to an enterprise technology architecture. As user expectations continue to grow our design standards ensure the highest possible service levels and availability of information resources are maintained at all times.
We design operational networks that ensure our clients can meet demands of every individual, whether in the public domain or across the corporate organisation. Our design specifications support the cloud, social networking and collaboration in the mobile economy.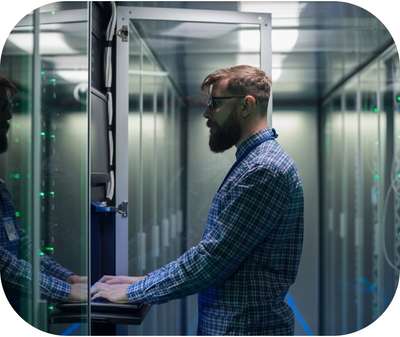 Strategic Consultancy
Whether a building scheme or a large campus capital development project; the RED ICT consultancy team engage with the key project stakeholders to ensure that the technical architecture strategy is future-proofed to reflect the demands of today's connected economy, to delivery mobility and continuous connectivity with on-line information resources.
Technical Migration and Project Management
We partner with client ICT service management teams to plan and execute the seamless migration of ICT resources to support system upgrade and premises relocation. Our professional services include project budgeting, procurement consultancy and employers representative in resident engineering and commissioning management.
Critical Facilities, Infrastructure Design, Procurement and Site Services
We deliver technical excellence often in demanding project conditions. Centred upon ICT and telecommunication infrastructure; we provide a complete range of project lifecycle consultancy services from initial requirements brief through detailed 2D/3D drawings and technical design specifications to supply chain consultancy and commissioning management services.
In Service ICT Consultancy
Operators and investors are increasingly focussed upon continuous improvement in operational efficiency. We provide a range of resident engineering technical review services associated with converged IP data network operational performance. Project examples include technology asset audits, ICT equipment performance review, DC facilities audit, risk & resilience review, network security assessment, SLA alignment.