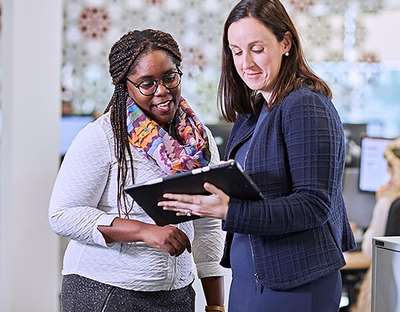 At IMI, we're proud of our engineering heritage. Our ambition is to create value by solving industry problems. Our employees are proud of IMI's engineering capability – it runs through everything we do. But just as important is our ability to do things the right way. That means being true to our values, working with integrity, and supporting each other along the way.
We welcome graduates into our supportive, inclusive culture which celebrates difference and a growth mindset. You'll be a valued member of a community dedicated to tackling the biggest challenges of the 21st century. We strive for a workplace that's friendly, flexible and diverse.
Always improving
Once we've created something, we always want to push further to make it life-changing or world-class. That's why we champion the idea of constant improvement – we challenge our people to look for ways to make everything better.
Engineering is in our DNA. And it's an important part of our culture. Pushing the boundaries in our industry and solving difficult challenges takes collaboration and positivity – we need teamwork on every level and expertise in all the right fields. We work fairly, we work effectively, but most importantly, we work together.
Our Four Values - the biggest levers of growth
CUSTOMER INTIMACY

Customer led innovation, problem solving mindset, market driven, aligned to deliver value to the customer, the "internal customer"​.

ONE BIG TEAM

Diversity, collaboration, multiple teams that form and disband, no silos, many connections, relationships and trust, team not the individual, held together by our purpose.

PLAYING TO WIN

Not defensive or "playing to avoid losing", business rigour through positive challenge, growth mindset, ambitious for possibilities and opportunities, simplicity, trying things out and learning, speed and agility.

INTEGRITY

Staying true to our purpose, vision and values, having moral courage, behaving with authenticity, balancing the needs of all stakeholders, being honest, open and transparent, delivering what we promise, taking accountability​.