Truly moving internships
An internship here means you'll return to your studies with a professional edge and invaluable network. We tend to inspire a confidence, drive and newfound skills that put you in a prime position to get the graduate programme or role you really want.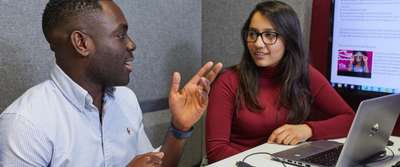 First or second year university student? Maximise your summer break or placement year by discovering how we can put your degree to work, shaping the future of the real world. And let us show you how you take your skills global. From learning how a few lines of code connects millions of people to exploring the heights and depth of our futuristic transport projects, see what it really takes to be here with us.
Industrial placement (12 months)
Our 12 month internships are ideal for someone looking to complete a placement year as part of their degree. They are designed to lay solid foundations for a successful career, through a tailored development programme; giving you the opportunity to truly immerse yourself in one of our exciting business areas.
Summer placement (3 months)
Our 3 month summer internships are designed to give you an introduction to the world of a global company. You'll experience life in either Engineering, Business or IT and have the opportunity to build your professional network, ready for when you graduate.
Brave enough to re-imagine the world around you?
People choose different careers for very different reasons. For some, it's money. Others, it's doing work that will change the world. Then, there are those who just want somewhere to fit in. You know what we think? Any career worth your time should offer all this and more.