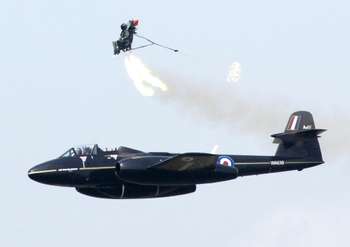 Martin-Baker has been the world leader in the design and manufacture of ejection and crashworthy seats for over 70 years.
A family-run business at our core, we've saved over 7,600 lives in our time and have been honoured to receive 11 Queen's Awards.
Our latest designs offer unprecedented life-saving capabilities, with over 17,000 seats currently in service.
Ejection seats are understandably complex: every facet of the safety system must work perfectly to safeguard a precious life, from initiation, escape path clearance, ejection sequencing, stabilisation, life support and parachute descent to final rescue and so much more.
---
Latest Ejections

We've been saving lives for over 70 years - be sure to stay up to date with news of our latest ejections here.

Ejection Tie Club

The Ejection Tie Club's members have all ejected using one of our seats, each with their own powerful story.

Careers

With an enviable reputation for developing and retaining our people, we're always keen to take on new talent.
---
"There's always interesting things to get involved in at Martin-Baker"
We believe that, when an ejection seat may represent a crew member's last chance to survive, there can be no compromise.
As a company, we've delivered over 90,000 ejection seats to 93 air forces around the world.
Alongside ejection seats, we've also developed a range of special crashworthy seats for helicopters and fixed-wing aircraft, currently equipping over 60 helicopter variants. Altogether, we've managed to save over 7,600 lives.
With facilities around the world, we offer a complete 'end-to-end service', from helping the customer establish operational safety and escape requirements to ongoing support throughout the entire service life of the aircraft.
Passion for engineering, strong family ties and an extremely loyal and skilful workforce are just a few of the reasons behind our success.
We are a member of the Gradcracker Five-Year Club
We have been a Gradcracker advertiser for at least five years. We recruit regularly and should still be doing so whenever it is time for you to apply for placements or graduate positions - make sure that you Follow us to be alerted to any of our new opportunities.