A group of Leonardo's young engineers, made up of apprentices and graduates, has had the rare opportunity to enjoy a flight in a Royal Navy AW159 Wildcat, in recognition of their outstanding work on their training programme within the company's helicopter division.

Flying over Somerset and Dorset, the 14 trainees were rewarded for their work as Programme Managers and Project Leads on the Lynx Maintenance Trainer (LMT) programme. The soon-to-be-completed LMT aircraft will be an invaluable platform for enhancing Leonardo's UK helicopter training capability for apprentices, employees and current/future customers of the AW159 platform.

The apprentices and graduates were hosted by RNAS Yeovilton's 815 Squadron, who demonstrated the full capability of the radar and Forward Looking Infra-Red (FLIR) camera capabilities on board the AW159.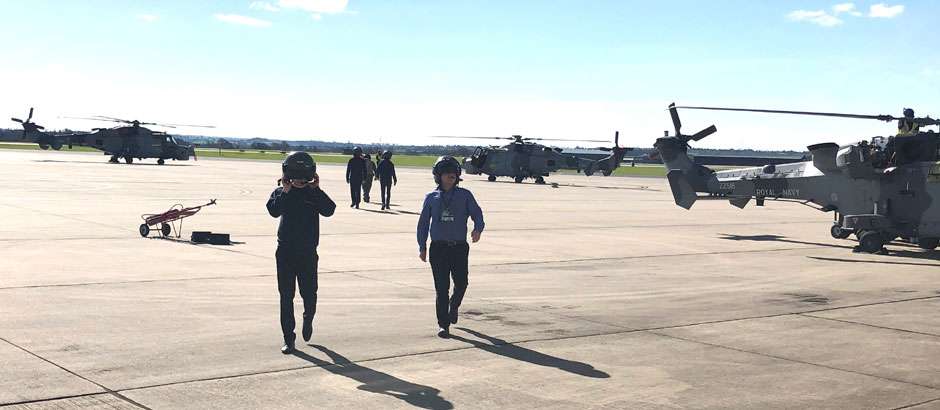 Excellent weather conditions and visibility provided the young engineers with great views of Somerset and Dorset, as well as video imagery of the French coastline, 85 miles away, which could be seen on the cockpit's Instrument Panel Display screens.

Leonardo Training Managers, James Nutt and Russell Lock, who organised the flight, said: "Having been inspired and motivated by 815 Squadron's Paul D'Arcy and Mike Vivian's superb demonstration of the product and aircraft capability, our trainees came away with a huge sense of pride in the work that they do at Leonardo. The experience of flying in our products has reinforced the quality and engineering innovation that goes into the design and manufacturing phases. Having the opportunity to witness first-hand what these products can do, when in the hands of highly trained customers, has also had a profound impact on the trainees' sense of harmonisation across the company and its accomplishments."

Olly Jennings, who was one of the participants, added: "What a day at work! It was amazing to get to fly in one of the AW159 Wildcats based at Yeovilton – out at Sherborne and back through the Leonardo site where it was built. What incredible aircraft we make...I can see why it's so well-received by the customers who order it. The radar range and integration is absolutely second to none, and stability is amazing! Days like this make me so proud to work at Leonardo!"