2020 proved to be a historic year with challenges and successes across Leonardo both in the UK and around the world. We therefore start 2021 with our Review of the Year and by wishing you, our customers, partners and colleagues all the very best for the year ahead.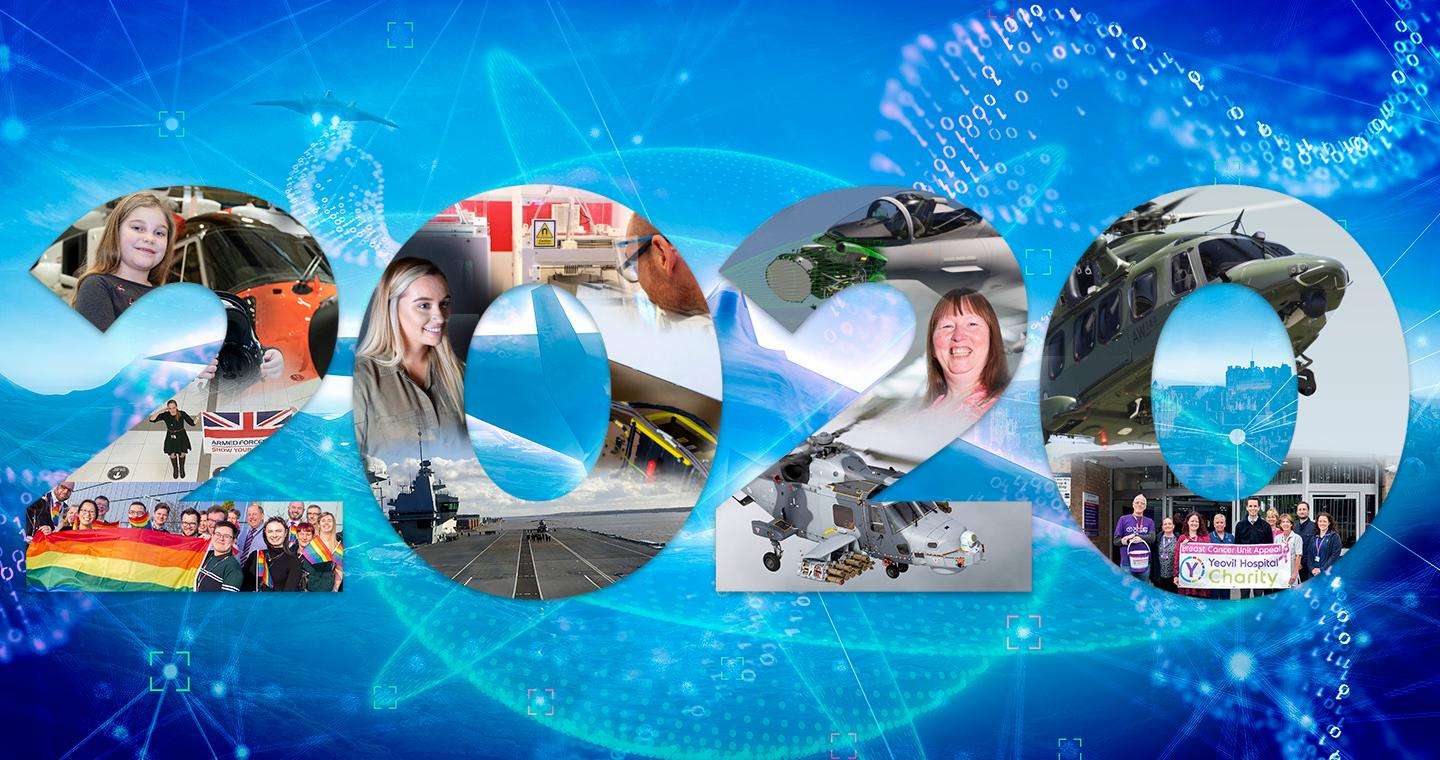 Last year, as this, started with a look to the future and the opportunities that lay ahead not just for those already working for Leonardo but also those for looking for career opportunities within the company. We told the story of our youngest ever applicant, Rosie, from Somerset. Although not quite old enough to enrol as an apprentice, we were delighted to invite Rosie for a tour of our #Yeovil site and her favourite helicopter, the #AW101 which was set for a monumental year.
February saw us mark our first major Inclusion and Diversity event of 2020 with LGBT History Month. Driven by the enthusiasm of our employee-led our network groups, this set the scene for another busy year supporting important initiatives as we continued to build an inclusive culture for all our people.
We started the month of March in Liverpool, on-board the Royal Navy's HMS Prince of Wales, as the new aircraft carrier welcomed the public for the first time during its inaugural visit to its affiliated city. On-board, visitors were greeted by Leonardo's Merlin Mk 2, Merlin Mk 4 and Wildcat helicopters, as well as demonstrations of our electronics capabilities such as Seaspray radar, BriteCloud, SAGE and SEER. The helicopters form part of the UK Carrier Strike Group that will protect Britain's new class of carriers, including HMS Prince of Wales and HMS Queen Elizabeth, while our electronics protect those aircraft and keep crews and their colleagues connected via secure naval communications.
And then the World changed…. With millions of key workers working around the clock to fight the virus, Leonardo teams across the UK answered the national call to not only ensure our customers were able to response to the crisis and deliver much needed support to the frontline, but to go above and beyond by tackling the shortage of PPE by manufacturing equipment using our 3D printing facilities across the UK.
In addition to playing an important role supporting the UK's COVID19 response, the Royal Navy Wildcat helicopter was given 'claws', as alongside Thales we announced in May the first successful firings of the Martlet Lightweight Multirole Missile (LMM). The test was a major milestone in its development and providing the aircraft with greater capability to help protect the Royal Navy carrier group.
Later in the month, more big news came out of Yeovil when we announced our new UK Managing Director of Helicopters, Nick Whitney MBE. Nick took up his new role having first joined Leonardo as an apprentice, following in our proud tradition of upwards progression stemming from early career positions.
In June, we were delighted to mark our ongoing commitment to UK military personnel by once again celebrating Reserves Day and Armed Forces Day and organising a socially distanced 'Salute Our Forces' across our UK sites.
This year in particular, Leonardo was proud to show its support and long-standing association with the UK's armed forces with all our employees, but especially our key workers, doing what they could to ensure UK military capability identified by the UK Government as essential to the security of the nation, remained operationally ready. The month was also a major milestone for the 'majesty of the skies', as we celebrated 50 years of the Westland Sea King helicopter. The aircraft has supported military personnel for five decades, and stood the test of time by bridging the gap to the latest-generation AW101 helicopter.
Although we were unable to attend any of this year's planned summer air shows in person, July was still one of our busiest months thanks to the Virtual RAF Fairford Royal International Air Tattoo (RIAT), the RNAS Yeovilton 'Airday Rewind', and Farnborough International Airshow (FIA) Connect keeping the ball rolling. Two years on from its launch at FIA 2018, there was big news from Team Tempest with Defence Secretary Ben Wallace announcing that seven more companies, as well as British universities and SMEs, would be joining Leonardo and the other core Team Tempest members to secure the UK's position as a global leader in combat air.
Amid a backdrop of debate around the 2020 exam results, in August, we published results highlighting the growing popularity of our early career opportunities, with the company seeing a 39% increase in applications for #graduate and industrial placement roles, and a 100% increase for our #apprenticeship programmes. With much of our face to face STEM outreach programme cancelled, the continued interest in our engineering and business careers opportunities justified the amazing work of our STEM ambassadors who developed our STEM@Home activities earlier the year and their involvement in online seminars such as the Stemettes Virtual Summer Camp that took place this month.
In September, we announced that, alongside BAE Systems, we would be developing the next generation Active Electronically Scanned Array (AESA) European Common Radar System Mark 2 (ECRS Mk2) for the Royal Air Force Typhoons. The radar development will sustain over 600 highly-skilled jobs across the UK, and will give UK Typhoons additional world-leading Electronic Warfare capability. Also this month, our role to help develop Royal Air Force's ORCUS Counter UAS system which will provide a national standby capability to support emergency services across the UK in crisis situations posed by the threat of rogue drones. Colleagues across our UK sites also celebrated National Inclusion Week to encourage greater inclusion in the workplace, whether while onsite or working from home.
In the month in which we celebrated female engineering achievement on Ada Lovelace Day, we delighted to learn that our Deputy Head of Electronics, Dr Carol Marsh, was to receive an OBE for services to diversity & inclusion in electronics engineering. We continued to celebrate diversity throughout October and not just of gender, as for Black History Month we published a series of interviews with colleagues from different backgrounds about their careers, challenges and cultural diversity. October also saw us return to the Royal Navy, this time on-board the Queen Elizabeth aircraft carrier in Portsmouth to take part in the Atlantic Future Forum - the annual defence, security, technology and trade summit between the United Kingdom and United States of America.
In a year in our colleagues had more than shown their value to our end-users and their contribution to their local communities, in November, we reaffirmed our contribution to the UK economy as well with the publication of an independent report from the Oxford Economics research team showing that our UK operations add £1.9 billion to GDP annually and helping to sustain more than 26,000 British jobs. The month also saw colleagues raising funds and awareness for 'Movember' supporting this fantastic charity's work for men's cancer and mental health issues.
December gave us time to reflect on what has been a tough year for many. Early in the month, on Giving Tuesday, we looked back over all of the year's charitable efforts from our colleagues who, throughout the hardship and despite often being apart, came together to support our chosen charities with fundraising events, from home and onsite when possible.
We also spent some time this month looking back on another busy year for Inclusion and Diversity events within the company. We spoke to Leonardo's UK Head of I&D, Nerys Thomas, on what had been achieved and why, with such milestones as our landmark partnership with the Association For Black and Minority Ethnic Engineers (AFBE-UK) announced this month, she is excited for the future direction of the business.