We are committed to supporting and constantly seeking to improve diversity and inclusion at Carpmaels & Ransford
We recognise that diversity of thought is vital to our business, enabling us to approach challenges differently and offer our clients creative and original solutions.
We believe that the steps we are taking will ensure that Carpmaels & Ransford continues to be a supportive and healthy workplace for our employees, which in turn ensures that we provide the best possible service for our clients.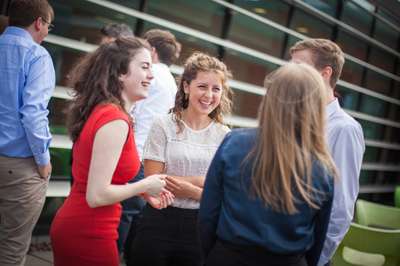 Our commitment to equal opportunities
We are closely involved in IP Inclusive – a UK based network of intellectual property professionals working to make our community more equal, diverse and inclusive. We provide both financial and logistical support to its initiatives and were among the first signatories to its charter in 2015. We have also been participating in the Senior Leaders' Diversity Think Tank instigated by IP Inclusive in November 2020.
Over recent years, seeking to improve gender balance at all levels has been a top priority for the firm and this is set to continue. We have and are developing a number of initiatives to support the development of female employees and working parents to ensure all doors are open to them. We are constantly improving our talent programmes to support career development across the firm that will enable individuals to progress towards their goals.
We are also committed to creating a workplace where everyone can be themselves. For example, we are part of the Diversity Champions Programme of Stonewall, the leading charity for lesbian, gay, bi and trans equality, dedicated to ensuring LGBT inclusion in the workplace.
In 2020 we signed the Race and Work Charter and committed to five calls to action to support Black, Asian and Minority Ethnic (BAME) employees in the workplace.
We believe in work-life balance
We are a community of individuals with diverse interests. From music to sport, baking to volunteering, there are many opportunities to pursue our hobbies outside the world of intellectual property. Many of these are facilitated through our CSR programme.
We also recognise the importance of finding a balance between work and home commitments. For example, we provide support for working parents with a comprehensive benefits package. We are also very supportive of agile working as a way for employees to balance demanding careers with busy home lives and are constantly looking to improve this while maintaining our much valued Carpmaels culture of collaboration and originality.
Our commitment to employee wellbeing
We are committed to providing and sustaining a happy and healthy working environment for everyone working at Carpmaels & Ransford.
We have an employee assistance programme to help employees with personal and professional issues, alongside private healthcare covering both physical and mental wellbeing.